Hauppauge! HD PVR Gaming Edition 2 Review
When we checked out the original HD PVR Gaming Edition device from Hauppauge!, there were some glaring issues that really kept the device from achieving its full potential as the recording device for gamers.  Fortunately for us, the New York electronics manufacturer has made some significant improvements to their second version of the personal video recorder for gamers.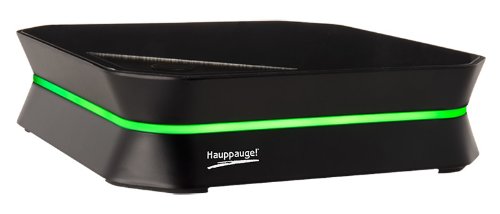 Immediately visible to the user is the HDPVR2's significant size and weight reduction.  Weighing in at only 0.75 lbs with a 6″x6″x1.5″ footprint, the device is almost half the size of its predecessor.  Furthermore, the device is now capable of using HDMI for input/output instead of component/composite I/O. (However, component is still required for use with the PlayStation 3 through an AV adapter on the back of the unit – a limitation of the PS3 and not the device, I might note.)  For those that prefer the higher quality audio that comes through a digital fibre connection, an input is available for use; however, no output is available for pass-through.
The fit and finish of the device is more refined than the original unit.  Long gone is the bulky, blocky frame in favor of a more slimming concave design with matte black finish on the sides.  The top of the device sports a brushed metal plate to give it a high-scale look.  Green and blue bands of light emanate from the thin line banding the center of the device like a snug belt to show off its trimmer self.  The device sits unobtrusively in an entertainment center instead of looking like a gaudy piece of plastic hogging up the limelight.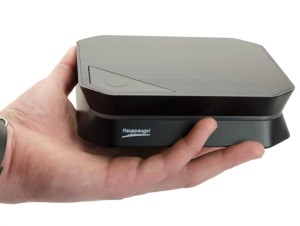 The HDPVR2 comes with all of the cables necessary to set up out-of-the-box, including two HDMI cables, an I/O adapter for component input, a component cable for the PlayStation 3, a power cable, and a nine-foot USB cable to connect your PC or laptop to.  Connecting the device to your console and PC takes just a few minutes with the straightforward instructions provided.  Software installation doesn't take long either; however, you'll not want to click on the verbose log viewing as the extended window can lay over some prompts for driver and software installation that you may need to respond to such as which console you're planning on using the device with and at what resolution.
Once the software is installed and the device is connected to your console and PC, you can either click to open ArcSoft Showbiz or touch the single button on top of the device to start the software to begin capturing your gaming session.  The HDPVR2 is capable of recording in AVCHD and MP4 formats, depending on what your preferences are, and can capture your game in lovely 1080p HD with 5.1 surround as long as the game you're supporting is capable of it.  Once completed, your files will be saved to your hard drive to be edited or directly uploaded to the internet.  The end user experience for capturing the images on your screen are fairly straightforward and intuitive, and the documentation available on paper and online is a great help to getting everything just right.  It's the editing, unfortunately, that causes a bit of a snag.
ArcSoft's editing software is simplistic in that it has the very basic features necessary to put together a video for a decent presentation, complete with transitions, text editing, and even an application to create custom watermarks.  While the software is rich in widgets for creating your masterpiece, I did find the controls and functions to be less than intuitive compared to many editing programs available off-the-shelf or bundled with other capture devices.  For example, the cutting tool is something that can be found on the toolbar in many apps to directly slice your film as needed straight from the timeline view, but ArcSoft actually has a completely separate window open where you make all of your cuts in.  While it gets the job done, one more screen is one more barrier between you and your finished product, all the while feeling clunky.  Of course, if you can afford the software, I would take Adobe's Premiere or Premiere Elements over a bundled kit any day.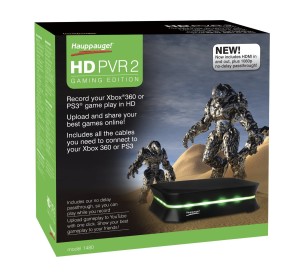 Of course, once your masterpiece is finally edited, uploading the finished product up to YouTube is as simple as entering your login info, and away you go.  Of course, if you want your friends or fans to catch every moment of your glorious conquests live and unedited, you can also stream to Twitch TV or UStream.  Quality, of course, is dependent on your internet connection, but configuring the Streameez is hassle free.
Overall, Hauppauge! has made significant strides in improving its product since the release of the original HDPVR system, but there are still some flaws to be worked out.  Even though it has a dedicated power system, I found that the screen would eventually flip to a blue "no signal" if the USB cable was unplugged, which is annoying if you don't necessarily want to leave your laptop plugged in, or deal with putting all of the cables back to simply watch a television show or play a game without recording, and the software still needs to be fleshed out and more user-friendly with easily accessible toolbars and a more intuitive interface.
While I still dig Roxio's Game Capture HD for its 'just throw it in a bag' portability, I do have to say that Hauppauge!'s HD PVR Gaming Edition 2 most certainly gives me pause before packing up my gear.  I do have to say that this sharp looking bit of tech fits in extremely well with your consoles in the entertainment centre, and performs quite nicely to boot.