Hitting the Replay Button – A Batman: Arkham Origins Review
This game was reviewed on the PC (using an Xbox controller).
Batman had to start somewhere, right? That's where Batman: Arkham Origins from Warner Bros comes in. This third-person, action-adventure game follows the early years of Bruce Wayne's career, when he was still a little green, and still developing into the Batman that became a Gotham legend.  A prequel to Batman: Arkham Asylum and Batman: Arkham City, Warner Bros moved development away from Rocksteady Studios and decided to take on creating the new Batman themselves. Does this new game take up the torch and run upwards to victory, or will it be snuffed out in the midst of big hitters like Assassin's Creed IV: Black Flag and Battlefield 4? Stay tuned to find out!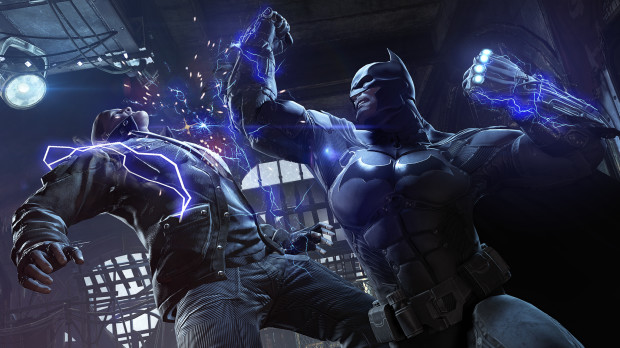 Christmas Eve in Gotham is deathly quiet, but there is definite unrest.  A lone vigilante lands on the roof of the Blackgate penitentiary, in search of Commissioner Loeb, who has been taken captive by the infamous Black Mask.  Our Caped Crusader is too late to rescue the Commissioner, but instead discovered there is a price on his head, and Black Mask has alerted all of the most deadly villains in town that they have until the end of the night to cash in. Batman's butler, Alfred, warns him not to venture out since none of his enemies know his identity, and it would be the safest course of action. A strong-willed Bruce Wayne doesn't heed this advice, and instead believes that if he does not take down these devious foes that they will use innocent people to draw him out anyway.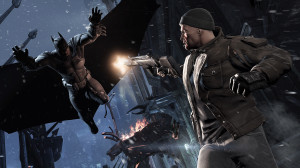 Batman: Arkham Origins as a title is slightly misleading, as it claims the game is an origin story, when in reality, it's a "before the other two games" story. You'll see a young Batman who has a surprisingly unsteady relationship with Alfred, but is already skilled, suited up, and familiar with Arkham. In fact, you'll start off the game already knowing most of the enemies, and having many of the weapons from Arkham Asylum and Arkham Origins right off the bat. The upside to this is that you no longer have to slowly obtain your gear over the course of several levels, and can instead use your level-ups to encourage combat and tool effectiveness. The downside is that it's slightly inconsistent in its believability as an origin game, like when Batman (eventually) obtains a Shock Gauntlet. If this game truly is a prequel, the introduction of an admittedly badass weapon (it builds up during combat and then can be used to punch through any enemy defenses) is confusing. Did he feel he was just too good as Batman with these puppies and decide to lock them away to give the bad guys a chance in the following two games? Did he just misplace them and Alfred can't find them before he heads out? We may never know.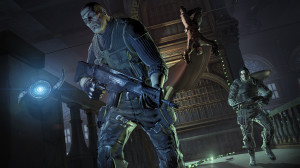 One really neat part of the story, however, is his first encounter with two enemies he doesn't yet know: The Joker, and another enemy Batman nicknames Enigma (no spoilers). The two are a complete mystery to Batman, so watching them size him up (and vice versa) is an interesting exchange. Batman doesn't yet grasp the motivation of these two new adversaries, and just how perverse they truly are, but the enemies underestimate him as well, making the developing relations between these characters the best experience in the storyline for new players and fans of the series alike. To combat the fact that Warner Bros added even more Bane into the mix (who has sadly become an overdone character), Deathstroke and Firefly are also two lovely additions to the game, giving fans fresh new characters to sink their fangs into.  While Firefly and Deathstroke  aren't huge parts of the story, they help to make the game feel more unique.
Combat is something that Warner Bros didn't mess with, and kept the same near-flawless fighting style that we saw in Arkham City, adding only a few more button-prompt moves during boss fights, a few new weapons, and proximity tweaks that you'll notice while sneaking around. Now, as long as an enemy underneath you is close by and not necessarily right in front of you, you can hit the action button (Y on the Xbox controller) and string up your foe by their toes. Be aware that in Arkham Origins, Batman will have intermittently touchy reactions, often not completing moves like ground takedowns unless you hold the buttons down two or three times to get a reaction. In contrast to this annoyance, there is a training module at the Batcave where you can hone your skills in between major missions, and see how many combos you can get off in a row! This will help players get into the swing of things, and try different ways to take down their enemies if need be. The combo multiplier will keep rising with each hit (which is better for damage and experience bonuses) as you fight, but will be interrupted and reduced to zero if you are hit by an enemy. Along the way to your objectives, Crime in Progress missions will also appear (much like in Arkham City), where Batman will hear conversations on the ground as he's moving around or via the police radio inside his equipment, and can swoop in to save the day and earn some experience points in the process.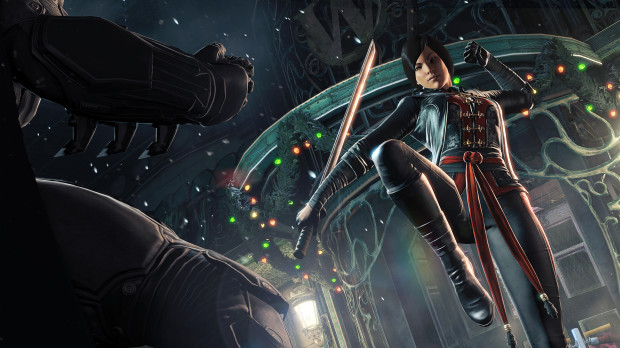 There is also a new fast-travel mode, where Batman can use his jet and shoot around the city as  needed. Sure, he can still move around the city freely, but the jet option is a faster way to get to immediate concerns, or travel across long distances that would otherwise be tedious to reach. Batman will also hone in on his detective skills using Detective Vision. It's activated the exact same way as Tactical Vision (LB on the Xbox controller), but is only utilized in specific instances. Batman will usually talk to himself or Alfred, stating that he needs to investigate the area for more clues before proceeding, and a white outline on the floor will appear to indicate the area of investigation. This is a neat little extra that may not be needed, but certainly adds a feeling of calculated skill that people typically identify with Batman in the comics and lore.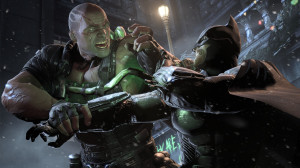 Some of the issues players will encounter may come across as funny, irritating, or even borderline infuriating depending on your point of view and the level of immersion you require to properly enjoy a video game. The award for funniest problem would be the disproportionate city, where Batman is simply not to proper scale. An example would be how Batman's shoulders are where the hood of many cars rests, which would make him a little over four-feet to scale, but then he lands on a storage crate that he's almost the same size as, though in reality they can fit a car inside them. This happens on and off again throughout the game, making for great commentary but lowering the overall immersion.  There are also the typical graphical errors a lot of intense and diverse games fall victim to, such as the baddies having intangibility, and bouncing around passing through Batman while he delivers death blows. The biggest frustration for players, however, may be the audio and text losses. This occurred twice on me, and a reload of the game was necessary to resolve it. When this problem occurs, the opening and closing of doors is heard, but there are no other game noises present. This would be fine, if the text also disappeared from the screen, which is a requirement for certain updates on objectives to move forward. Instead of ignoring this problem, players will want to reload or they will hit a wall and have to reload anyway to figure out what to do next or where to go. Overall these issues are forgivable, if a little irritating, because they don't actually break the game, and at times a reload will fix the glitches gamers will encounter.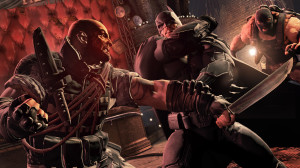 Much of the scenery is what you'd expect from a Batman game, and it's almost like reliving Arkham City all over again. In fact, it's almost exactly like reliving Arkham City all over again. Many of the scenes are not only familiar, but you'll question whether you've been in the building before, because many of the scenes are so recycled from the other titles, it's hard to tell if it's your memory playing tricks on you or if most of the areas are almost identical. A quick reload of your old Arkham City saved game will soon confirm your memory is just fine. While this would be fine from the outside when you're swinging, flying, and soaring around town, it's a little tedious for returning players to go into a building and fight in the same rooms they've been in, with almost the same cast of generic baddies, in search for the boss at the end of the maze (who is likely to get away anyways).
Not to say that the game isn't beautiful, and is filled with plenty of high-resolution action scenes and cutscenes containing high resolution animations that could be mistaken for live action to the untrained eye. In spite of any redundancies with the theme, there are also a few snowy scenes or areas with Christmas lights to remind you it is Christmas Eve, with the city itself being relatively quiet and barren. In fact, staying in tune with the dark and lonely feel Batman often brings, the only citizens around town you'll encounter are being mugged, or are committing various crimes themselves. Gotham really is unruly! Whatever happened to good will towards men?
Kevin Conroy fans may be sad to hear that he did not return as the voice of Batman for Arkham Origins, but on the upside Roger Craig (Ezio Auditore da Firenze, Assassin's Creed II) uses his youthful voice to play the younger version of The Bat, and Troy Baker will switch to the voice of The Joker (Two-Face, Tim Drake, and Robin in Batman: Arkham City). They certainly gave a great performance; Craig capturing the gruff and somewhat impatience of Batman, and Baker revitalizing the mischievous and yet somehow utterly proper tone of The Joker. The music is the classic epic-heroic music you'll hear, with the low beating drums and the rising brass tones, but where the mood really kicks in is with the sounds of slicing, sliding, and thuds you hear when punching out your enemies. It's hard not to love hearing your enemies' screams, pleads, or taunts, and then hear the sounds of the smack down you lay on them as they 'oof' and crack their way to the ground.
Previous Image
Next Image
If you love Batman, have already played the ever living heck out of Batman: Arkham Asylum and Batman: Arkham City, and are looking to relive those games, Batman: Arkham Origins is a good, solid buy. For those who are looking to experience a brilliant, open-world game that they'll spend countless hours messing around with and feeling like part of the story, or even just something different from Arkham City, you may want to wait until the game is on sale before picking it up.