How Far Will You Go? Total War: Rome II Review
This game was reviewed on the PC.
Strategy games are synonymous with map scrolling, army tweaking, and just plain hard, calculating gameplay. Because of this, most players outside of the genre don't see how compelling some strategy games can be, like Total War: Rome II from The Creative Assembly. Epic cutscenes, intuitive battle mechanics, and incredible game design make this sequel something that anyone can pick up and enjoy. Let's take a look at the enormous content you'll be expecting in such a tiny package!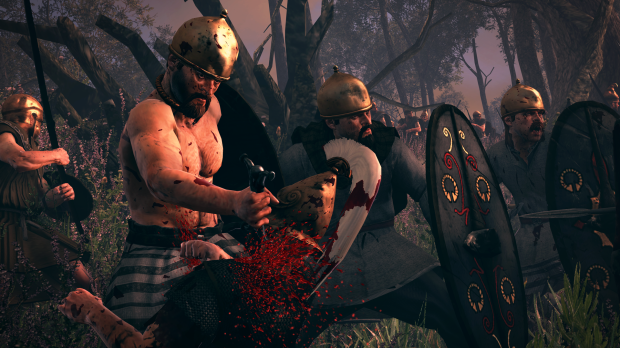 Storyline is not only important to Total War: Rome II, but it's also different depending on what Faction you decide to play as. While the game centers on Rome's empire, it includes multiple playable cultures and armies during the era as well, which encompasses 272 BC to 28 AD. Each campaign caters to the specific Faction the player chooses to play as, and there are so many to choose from, too! Including the DLC and patch releases, there are 16 available Factions, such as Rome, Egypt, Carthage, Athens, Sparta, and more. Each Faction has a distinct look, and will be distinguishable on the battlefield. From the heavy, red, gold and brown colours of the leather and brass uniforms for Rome, to the sand swept, leg barring rustic uniforms from Egypt, every detail is accounted for. The Faction's campaign also delivers a rich and thought-provoking history to accompany its specific style and attitude, and is sure to add a ton of replay value to the game.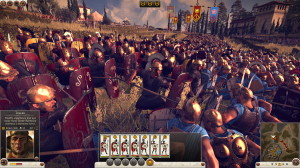 For anyone new to the strategy genre, starting the game and playing the Prologue is the first and highly recommended option. The Prologue will give a tutorial that is sure to lay out the enormous amount of options, from the Map interface to the battles. Since there are two main parts of the game, it's imperative that players understand both the Map and Battle modes fully. The Map overview has players stepping into the shoes of a General, making sure that resources are built up, Troops are replenished, and army movements are calculated. Going deeper into the gameplay, the second mode sets players in the heat of battle controlling their Troops. There are a plethora of battles, like port sieges, where naval battles meet land battles, or ambushes, where an army being attacked needs to find a way out of the area and gain higher ground against its enemies. There are so many different parts of the game, the units, and the strategies that are controllable that it would be impossible to go through every aspect without readers completely losing interest. Thankfully, the Prologue makes learning all of these features much easier to grasp, and makes sure not to be too demanding, or make the gameplay too easy through instructions or prompts.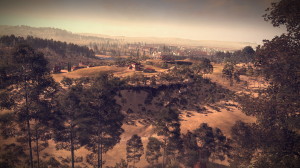 In spite of the initial release issues, multiple patches have occurred to bring this game closer to perfection. In Total War: Rome II, two months after the release, there is still a noticeable AI lag intermittently, where units will randomly decide to stop fighting, and you'll hear the roars of their voices but the characters jumble around beside each other without moving. The game also may have a memory leak, as regardless of settings it decides every once in a while to go to a black screen and crash out, though usually only after several hours of gameplay. Those issues aside, they are minimal in comparison to the large number that existed when the game first launched, which should give players even more incentive to purchase the game, as the track record for fixing known issues has been excellent.
If battle cries are your thing, Total War: Rome II won't disappoint. While in Map mode, players will have soothing, flute wielding tunes or ominous choir voices in the background so that they can calmly and effectively focus on their next move, or sooth their way into negotiations with an unruly leader. Soft clicks in the Map view will let players know the action they've performed has been acknowledged, and loud thunks resound as players move their Troops from one part of the Map to another. There are also plenty of different voice actors that will pop up and speak alongside their characters to either decline or accept any deals you've attempted to make, or any they wish to make themselves. In the heat of battle, players will hear the pitter-patter of Troop and Cavalry feet, the clang of metal to metal, the roars from every soldier rising up out of the field, and a faster pace, drum-heavy musical score to get your blood pumping and super charge the feeling of battle.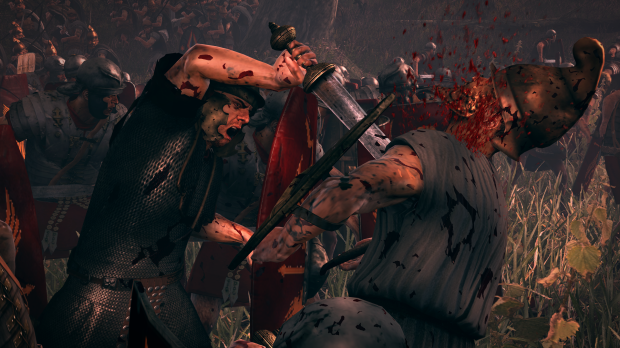 Realistic cinematics always lend themselves to full emersion in any game. This is an area that Total War: Rome II has been meticulous with. The glitter of metal on metal, the hooves of cavalry trampling archers underfoot—every detail has been accounted for. Even in the battle scenes that the player can control, you'll have incredible displays of just how detailed the game can get. As an example, in The Battle of Teutoburg Forest, your army will be fighting in the middle of a forested grassland path, while giant boulders of fire make their way down the hill towards your Troops, before armies of barbarians ambush you from above. Even though your Troops are in formations, they all run (as directed) individually, with slight changes and clashes to make you feel as if they are real people and not just part of a unit of AI soldiers. Even during the battle scenes, there are only yellow or red indicators/directional arrows around the selected Troops under their feet, or on the ground showing which way the Troops will head, helping not to distract from the fantastic design, while still providing enough information to complete actions efficiently, and see the results clearly.
The Map system itself that controls the battles and overall strategies is fairly rudimentary in structure, but still pleasing to the eye with its detail. Islands and oceans with clear forests and cloud cover moving overhead, it's almost as if you were an omnipotent being, looking down at the affairs of men and controlling their fate. When it comes to design, Total War: Rome II did something absolutely right.
Previous Image
Next Image
For those who have been waiting almost ten years for the sequel to Rome: Total War to come out, The Creative Assembly brings us a game that is certainly not going to disappoint previous fans, and stands to gain many new ones in the process. From the intense graphics, to the immersive battles, and the seemingly endless choices for Factions and battle strategies, players are sure to spend countless hours in Total War: Rome II planning new and interesting ways to try and conquer all who oppose them. Did I mention cavalry includes true-to-faction animals? To heck with horses, I'll take my elephants any day!