Ittle Dew Review
This game was reviewed on the PC.
The Legend of Zelda is just that – a legendary franchise that has set the bar for many game developers throughout the years. When a company attempts to recreate the nostalgia by developing a new and yet very similar game, do we praise them or scorn them? It really depends on the audience, and the way the game is created. There have been many games that have attempted to recreate this legendary magic, such as Darksiders, Neutopia, or even Evoland, and players everywhere love to give them a spin based on the fact that they are similar to the Legend of Zelda games.  Ittle Dew (developed by Ludosity) tries to accomplish this same goal, with a humorous twist and some slight changes to the graphics. Let's storm the Castle and see what treasures will await you on this journey.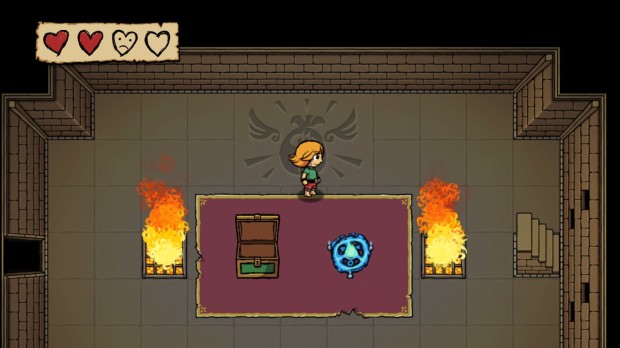 Direction and purpose in this game is a little hard to pin down at first. The basic storyline starts with our protagonist, Ittle Dew, and her companion, Tippsie. They land on a mysterious island looking for adventure, and a man at a shop offers to build a raft that will take them home once they're done if they go into the Castle up north and find an ancient artifact for him. As you complete sections in the Castle, you'll unlock chests that either give you enemy cards that look like something from a Pokémon deck (which Tippsie assures you are just for fun and nothing more), and coins so you can purchase a new weapon.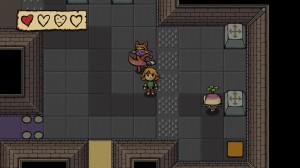 Ittle Dew gets bounced around from one random spot on the island to the other without any explanation every time she purchases a new weapon, of which there are three (a Fire Sword, an Ice Wand, and a Magic Wand that creates blocks and can warp creatures into those blocks). This can be irritating as there is no real form of completion to your exploration, only boss fights to get each weapon and one at the end of the game. While it seems like there is progression, it is neither an open world nor a definitively linear game, and while there is a Map it only shows you where you are on the island, not where you need to go next. This confusion can leave a bad taste in your mouth, as it almost feels as if there is no point to even having the Map. The game introduces Professional shortcuts into the Castle, and these are only accessible if you have the right weapons purchased. What this means is, you can bypass much of the Castle by completing these more complex puzzles that require multiple weapons to complete. While this is neat, you really don't get an idea of where you're going at any point,  due to the above-mentioned issue with the lack of direction or Map orientation, so adding these  shortcuts feels like a waste, simply put there to make you feel elite for being able to solve more advanced puzzles, instead of being actually helpful.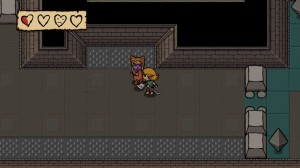 Character is one way to describe Ittle Dew, and it has it in abundance. For those of us who aren't fond of the Navi-type companions in the past, we get Tippsie – no, not silly-off-of-liqueurs-and-fine-wines, or even some blonde chugging a two-four, but a cranky companion named Tippsie. Tippsie is a fairy-winged fox who gives you generalized hints about what to do next or how to beat a boss fight. You can press T to have Tippsie pop up on the screen, chugging a health potion and looking like he's ready to collapse if you blow on him the wrong way. Every enemy you encounter also greets Ittle Dew, like a Guard in a frog suit that says Ittle Dew is lucky there are spikes in the way or they'd have to hit her with their spears (because, it's their job and all). These awkward conversations can be had with every enemy that Ittle Dew encounters, and the general goofiness of the conversations is surely enough to entertain even the most hardened gamer.
You can move around using the arrow buttons, and the ASZX buttons are used for your weapons. This makes playing the game both easy and unnatural all in the same breath. There is no way to change the keys, and while the ASZX buttons are in a tilted square position, the on-screen item images are in a triangular position. This is where the difficulty ends. You won't find yourself dying because you did not unlock the correct puzzles, or the enemies were overbearing, you'll die because you kept pressing Z when you meant S, or even the C and D buttons just because (if you're anything like me) your hands are too large to be cramped into the corner of the keyboard and still feel like you're naturally playing. The enemies themselves are very uniform, and all have a simplistic, monotonous pattern to their movements and attacks that is easy to memorize. The boss fights are also extremely robotic and easy to figure out, though puzzle enthusiasts will like how everything is set to a specific pattern, and aside from the knowing where to go and what to do next of the game, everything you do fits in a specific order.
Previous Image
Next Image
While there is no voice acting to speak of, the subtle background music to the game resembles A Link to the Past in almost every way. In fact, everything resembles A Link to the Past in Ittle Dew, including the trees, walkways, houses, and enemies. There is a slight change as Hearts don't float at the top left but are taped together on scrap pieces of paper, and the colours themselves are typically brighter. Nevertheless, these subtle changes will not deceive your eyes into believing this isn't a send-up. This will give fans of the classic adventure games a good smirk.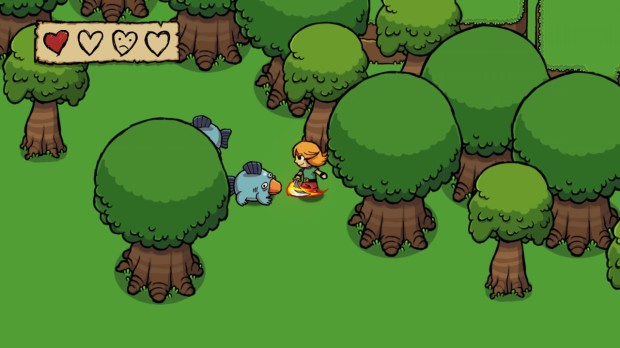 Unless you're a real die-hard Legend of Zelda fan, you may be turned off by the fact that the game is $13.99, but will only give you a very short playthrough.  If this game was a $5 throwaway, an hour long game with no replay value is forgivable. But with the lack of content, finishing the game in just over an hour, players may feel a lack of satisfaction with their purchase.  That being said, it's a fun little playthrough for those with a taste for nostalgic games that add a modern, humorous twist to themselves, and don't like to take gaming too seriously.