Just Dance 2014 Review
This game was reviewed on the Xbox One.
With the release of the Xbox One in late November came a variety of core games for the newest generation console. Racing fans got the highly anticipated Forza 5, RPG aficionados turned to the high seas in Assassin's Creed 4: Black Flag, or stepped into the shoes of a Centurian in Ryse: Son of Rome, while hack-n'-slash lovers got a chance to mow down zombies in Dead Rising. Thankfully, for the more casual gamers who enjoy party games, Ubisoft released Just Dance 2014 for all of the older generation consoles, as well as the PS4 and the Xbox One.  The Just Dance series has been around since 2009, with versions coming out each year with new dance modes, extras, and of course, the latest hits (as well as a mix of oldies and just plain old fun songs).  Will Just Dance 2014 prove to be Queen of the dance floor, or is it just another wallflower waiting on the sidelines for someone to ask her to dance?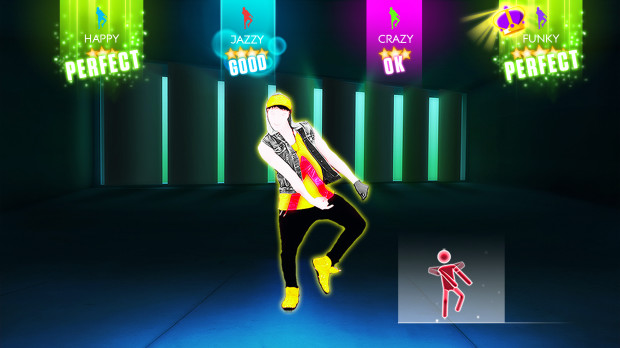 For those of you who haven't had the pleasure of trying out any of the Just Dance titles, the premise is fairly simple: follow the on-screen coach by mirroring its dance moves. You'll also have little pictograms gliding across the lower right side of the screen, giving you an idea of what the next move is and when to execute it.  The choreography tends to cycle through a few times throughout the song, so as long as you have some rhythm and are a quick learner, you'll be able to grasp the dance moves fairly easily.  As you dance, the game will critique your moves, giving you feedback from an 'X' (for failed attempts) to 'Perfect' for flawless executions. The more accurate your moves are, the more Mojo points you're awarded, which can then be used to unlock and purchase extras (such as new versions of a song, or avatars) in the Shop.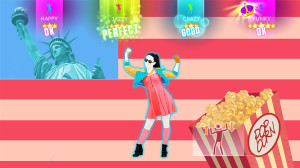 Perhaps one of the first things returning players will notice is that Ubisoft thankfully learned from their previous mistake and fine-tuned the side-swiping motion controls during menu navigation. Instead of just swiping your hand, you now do a 'grab-and-pull', allowing for more accurate controls.  Also, you can just use the 'hover-and-hold' method over your selection (whether it be the arrows on either side of the screen for scrolling purposes, or your chosen song) and watch the selection circle fill in much faster than previous iterations.  If you really don't feel like fiddling with the Kinect, you can use the controller for old-school navigation.
Once you jump into the game, you definitely won't be disappointed by the music department, which once again provides an eclectic and fun mix of over 40 songs. For those who enjoy the latest chart toppers, you can choose from a variety including Daft Punk's "Get Lucky", LMFAO's "Sexy and I Know It", Katy Perry's "Roar", and Lady Gaga's "Applause". You also see previous top songs like "Rich Girl" by Gwen Stefani Ft. Eve, and Lady Gaga Ft. Colby O'Donis in "Just Dance" mixed in with fun party songs like the Village People's "Y.M.C.A", "Prince Ali" from Disney's Aladdin, "Ghostbusters" by Ray Parker Jr., and oldies but goodies like Gloria Gaynor's "I Will Survive", Bob Marley's "Could You Be Loved", and "Flashdance… What a Feeling".  Simply put, Ubisoft's ensured that there's something for everyone and that all the tunes are bound to have people moving to the beats.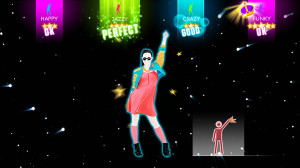 Whether you're looking for a workout or a party game to get your guests laughing and grooving, Just Dance 2014 has something that'll fit your needs.  If you see the appeal of dancing the calories away, you can jump into the returning Just Sweat mode, which provides a few preset exercise regiments (10, 20, or 40 minute programs), as well as the Free Mode (which allows you to choose your own songs). Regardless of which Just Sweat program you select, a calorie counter will be displayed on the screen, showing you how many calories you're burning in real time.  It's truly an exhilarating way to shed a few pounds, and soon you'll wonder what the point is to having a personal trainer or dropping all that cash on gym fees!
For a more competitive and social option, head on over to the Battle mode, as it pits two songs against each other. You can either dance against the CPU or your friends (with up to two dancers on each side) and battle it out by following your respective song's on-screen choreography. Whichever side earns the most points for correct choreography within three rounds will win the match.  Another returning feature is JDTV, which provides an outlet for players to capture videos of their moves and upload to JDTV to share with their friends or the entire world of Just Dancers.  Here, you can watch other players' videos and even vote for your favourites by Liking them.
As always, the developers filled the latest edition of the Just Dance franchise with new goodies, to keep the game fresh.  One of these never-before-seen items is the World Dancefloor, a competitive online multiplayer mode.  This new mode sees players joining other dancers all around the world on the virtual dance floor, battling it out to see who'll make it out on top.  World Dancefloor certainly adds a whole new social element to the game, as it allows you to connect with other Just Dancers, whether just to dance or to simply chat.  Another new feature is the On Stage mode, which has players performing in groups of three, with one person being the main star and the other two playing backup dancers.  In addition to dancing, however, players have a chance to see if their vocals are just as good as their dance moves. Just Dance 2014 uses the Kinect sensor's microphone for its very own Karaoke, where players will earn extra Mojo points for belting out the very tunes they're dancing to!
Previous Image
Next Image
For the partiers, Ubisoft created the Party Master mode, which integrates the Xbox SmartGlass function from any Windows device. This new mode bestows the game's controls onto whoever is holding the device, letting him/her choose the song, as well as the next set of dance moves for players to follow!
Just Dance 2014 features all-new choreography, and as always, it covers a wide range of dance styles, from Belly-dancing to Hip Hop, Disco to Tribal, Jazz to Theatrical dance, and everything in between. It's always interesting to see what style the choreographer chooses for a certain song, as well as the developers' creative imaginings for the song's visual theme. For instance, in Gwen Stefanie's "Rich Girl", your on-screen coach is dressed like Cleopatra, and will lead you through a belly-dancing routine filled with hip gyrations and undulations.  The visual effects are just as impressive, with the backdrop looking like an Egyptian throne room filled with fiery sconces, and two male backup dancers off to the sides.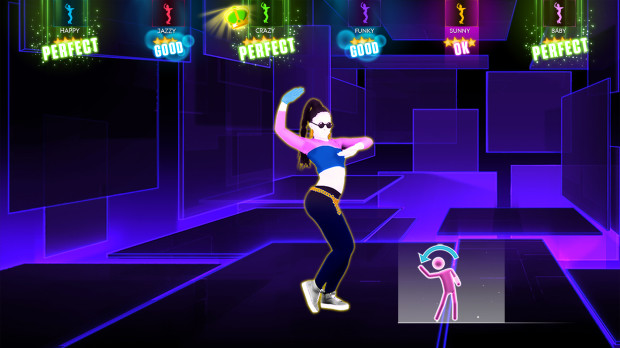 One thing that's always stood out with the Just Dance franchise is that the choreography often mimics the original artists' styles. For example, "Applause" features the coach in full masquerade gear (a semi-Ball with skeletal hoop skirt and a black leather mask), dancing in a unique way that's similar to Gaga's iconic style of stuttering motions and hand flourishes.  You'll also see the party songs like "Prince Ali" and "Ghostbusters" filled with bright colours, fun costumes, and entertaining group choreography that will surely have everyone giggling and just having a blast.
You may end up having so much fun that it'll be easy to overlook a couple of issues with Just Dance 2014, the most notable of which is the faulty Scoring System.  While it's understandable that most music and rhythm games don't rely heavily on the accuracy of the motion sensors, it's an entirely different issue when you're seeing the game score your 'moves' as Perfect or Good… when you're just sitting there, staring at the screen. Mind you, the upside to this is that sitting like a bump on a log will still earn you Mojo points to go towards purchasing new content!  The other head-scratcher in this game is the inconsistent labeling of the difficulty levels.  It makes sense for Rihanna's "Where Have You Been" to be listed as Hard, seeing as how its Tribal choreography is sure to test your stamina, and will help you discover muscles that you might not have known you had.  However, when the majority of a routine consists of windmilling your arms about and simple hand flourishes (as seen in Nicki Minaj's "Starships"), you'd think the song would be labeled as Easy rather than Hard.
At the end of the night, Just Dance 2014 is a high-energy title that can be played in different settings, whether you want to test out your dance skills, try a fun way of exercising, or feel like challenging your party guests to a dance-off. Though it has a glitchy Scoring System and the difficulty labels lack consistency, the large variety of music and choreography is sure to keep you and your friends entertained for hours!  Who needs to go clubbing when you can turn your own home into a Just Dance party central?