Killer is Dead Review
This game was reviewed on the PlayStation 3.
Have you ever plunged into a really bizarre anime your friends are into, but you start watching it half way through the series? It's a confusing whirlwind of innuendo and crazy characters who you have no connection with, and can't understand why they're freaking out. You can either muscle through the series, watching with your friends (asking question after question until you're caught up),  start from the beginning and hope it all makes sense, or give up and swear of the darned thing. If you've never experienced this type of situation, never fear: Killer is Dead is here! This extremely gruesome and sexual Bond-like action anime with a Sin City cinematic feel was developed by Suda 51 from Grasshopper Manufacture, most notably the creator of killer7 or No More Heroes. While the storyline is a little disjointed and confusing, if you're into seducing and using bimbos, slicing up piles of enemies, and having a cybernetic arm, this game won't disappoint!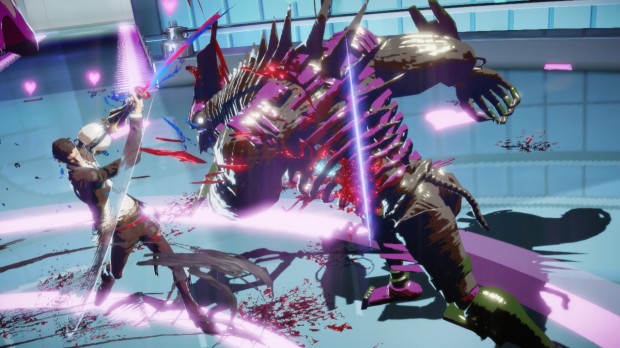 Mondo Zappa, a cold and calculatinged killer is hired by Bryan Roses of the Bryan Execution Firm, and is tasked with taking out a plethora of wanted criminals. His left arm is bionic, and his right wields a samurai sword, perfect for taking out any target on his list.  Personality-wise, Mondo is very monotone and hard- shelled, without a lot of natural depth to him, so relating to or connecting with Mondo may be a challenge for some gamers. While players will be controlling Mondo, there are plenty of other team members with their own unique personalities to get attached to: Vivienne, the mysterious and seductive assassin with multiple, gun-wielding arms that come out of her back; Mika, and endearing young girl who is eager and willing to make soft-boiled eggs for Mondo;, and Bryan, the cybernetic boss of the Bryan Execution Firm with a love of cigars, fine wines, and monologues.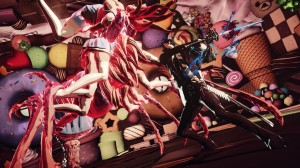 That's basically where the bulk of the story ends, though the gameit alludes to there being more to it than that. It's almost like the game assumes you're already caught up on these characters' lives, and should know what comes next. We know Bryan is a retired assassin with a perfect record and a lot of connections, and the Bryan Execution Firm supposedly fighting on the side of good, even if your team is morally ambiguous and takes jobs from both the public in general and the government – whomever has the cash to spare. We also know that the main antagonist is a man named David who is from the dark side of the moon, and seems to have some knowledge of Mondo and his love of soft-boiled eggs. It's clear they know each other, but how and why is never really explained, nor is David's motivation. It almost feels like you're all just there to fight your own demons and collect a paycheck, with no 'bigger picture' other than the obvious issue with monsters constantly coming from of the dark side of the moon (literally speaking). This type of story may attract certain people who like an open-ended storyline, but lacks a depth to it that will draw a larger crowd.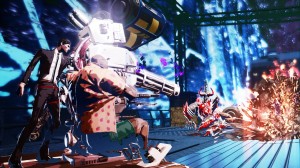 Killer is Dead has one of the most unique art styles in this generation of gaming. It's certainly an anime, but with cel-ll shading and a mixture of different lighting techniques that overlap in each scene, such as a drop shadow effect on part of the scene with an ambient lighting effect emerging from the corner of the screen. The colours themselves are in muted and even borderline cold, with such dark lighting in most scenes you feel like a vampire. Then, without warning, small bursts of vibrant colours sift through (especially in the form of red), and create a surreal environment that is sure to stick in your mind long after you've put the controller down. The game mimics the same colour scheme as Sin City, but it also transitions in its own unique way from moment to moment. The game will start off with very sharp outlines around the characters or the scene, move to a softer looks as if someone is filming it and put Vaseline on the lens, and then create a perfect, focused mixture of both in the same frame.  Each level is a brave new world, from swank hotel rooms to palaces that include stairs and doors are placed all over the place, defying gravity, and brightly themed toy box or forest clearings. A lot of attention was paid to detailing every scene, and Killer is Dead has an excellent way of creating an abstract and surreal environment. With its depth of field and constant changes, it creates an adventure that is going to be a new experience for your eyes.
Much like the graphics, the gameplay in Killer is Dead is contrasted with itself. It's your typical hack and- slash when it comes to using the PlayStation controller, with the square and triangle buttons being your main go-to buttons, but the actual levels are extremely abstract and the enemies varied in intensity and design.  While on a mission, in order to use his robotic arm Mondo needs fuel, which he receives in the form of Blood by picking up the limbs from his recent kills. From robots and ninjas, to deformed and disgusting versions of different animals, insects, or even floating body parts, the diversity in selection for the slaughter is admirable, but the diversity in moves are minimal. While the enemies are each very different, their attacks are very predictable, even monotonous, and even the boss fights will be a basic pattern of dodge-and-slice to destroy any of them. This makes the boss fights unchallenging and at times even boring, leaving players with only an initial fascination with the designs of the bosses. I mean, who wouldn't want to hack away at a girl named Alice in a blue dress, on a level much like something from Alice in Wonderland, who has an alien bug come out of her back and meld with her body parts?
Previous Image
Next Image
Attached to this thriller are sidequests in the form of dating sims. These dating sims involve meeting a girl at a bar, and staring at different parts of her body to fill your Gigolo Meter using Gigolo Vision (pressing L1 to focus in and the analog sticks to focus).  Stare at her chest while she's watching you, however, and your meter will go down. If you successfully ogle her enough (while still paying attention to her face when she looks at you) she'll let you give her presents. Fill your Gigolo Meter up enough and she's sure sleep with you.  When this happens, you'll usually get upgrades and items (like a Drill for your bionic arm) that you can use in the game. Apparently bar bimbos pack weaponry in their hotel rooms to give one night stands they feel performed satisfactorily? It doesn't make a lot of logical sense in the game, and as the main way to level up equipment it, feels very tacked on and pointless. Sure, Mondo can use the money he earns from his kills for unlocking special combos and moves, but if you really want that big, meaty, cybernetic gun to attach to his arm, you're going to have to buy a ton of perfume and stare at boobs for a while.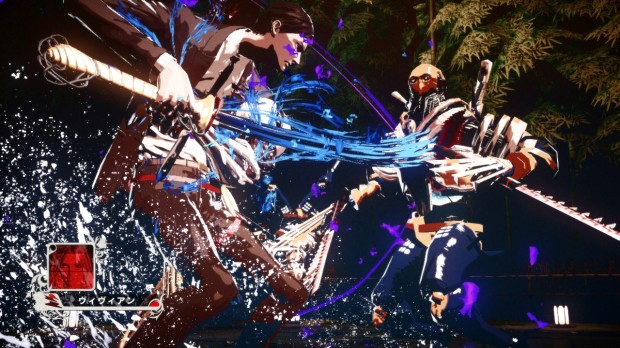 While Mondo moves on to his next mark, he often leaves mostly naked women begging for him to come back in his wake, and the multitude of non story-driven scenes does tend to get tedious. The problem with reliability, is that Mondo is supposed to be dark and mysterious, but coupled with the monotone voice acting, leaves him feeling two2-dimensional and forgettable. While other characters like Mika and her bubbly, slightly annoying fan-girl squeals or Bryan and his smoky, gruff and stern voice serve the game well, Mondo himself leaves a lot to be desired.  The great thing about Killer is Dead is that you can switch to either English dubbing, or original voice acting with subtitles, for those who really enjoy the authentic anime feel. The Japanese Mondo is actually more believable, and the way he speaks gives players the sense that there's something more going on. It's too bad this character did not seem to translate well into English, as the protagonist of a story is the focal point of entertainment in a game of this nature.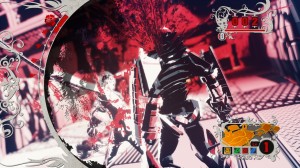 With a background soundtrack comprised of rock and techno pieces, the music caters to the theme of the game perfectly. Players may get a little annoyed, however, with the announcer's constant "Killer is Dead" proclamation every time you go in for a main boss kill, but overall the slicing, dicing, gushing sounds and cries from the enemies and basic sound effects will not disappoint.
Much like surströmming, Killer is Dead is an acquired taste. If you've had a lot of exposure to Japanese dating sims, animes, and even assassin games, the themes found in Killer is Dead are not uncommon, but are very rarely found mainstreaming in North America. Much of the game will offend a wide selection of people thanks to its morally devoid and sexual nature, and others still will be frustrated with the seemingly 2-dimensional protagonist and inexplicable glitches. That being said, for those who have a taste for the macabre, enjoy a disconnected existence, and love to slash their way through enemies, it may just be the game of the year!