Marlow Briggs and the Mask of Death Review
This game was reviewed on the Xbox 360.
There aren't a lot of things that would hurt more than getting an ancient Mayan scythe through your chest – except for maybe being resurrected by a mystical being, and becoming an undead revenge tool who can feel every scrape, cut, and bruise you receive along the way. This is what happened to Marlow Briggs the titular hero in Zootfly and 505 Games' action-adventure, hack-and-slash game entitled, Marlow Briggs and the Mask of Death.  Join Marlow in his quest to bring down an evil, power-hungry Heng Long who has kidnapped his girlfriend, Eva Torres.
Players will control Marlow Briggs while he travels from factory to factory, through lush jungle paths or dry rocky caves, picking up audio tapes left behind from Eva (that act as a storyline filler), and uncovering awesome new powers with the help of a magical Mayan mask that can talk. The basic premise of the story is very straightforward, and the banter between Marlow and the Mayan mask are extremely entertaining, such as the mask laughing at Marlow (in his larger-than-life Mayan accent) for being such an amateur, calling him ChuChu (and other mean names) while the obviously American Marlow is wigging out that he has these incredible powers and unimpressed with his companion's tone, proving even exaggerated voice acting can be fun in context.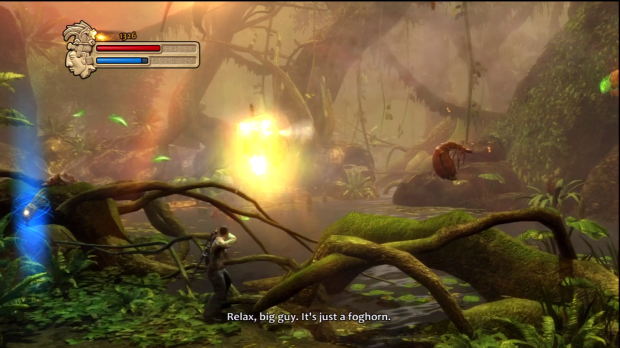 Mechanics aren't always the easiest thing to get a handle on, but Marlow Briggs and the Mask of Death makes learning each new move very easy. While there are combos, the developers don't require you to learn complex patterns, or even direct you in any fashion aside from what button controls what weapon, so it's easy to discover your own natural moves during the game. Players will also be able to upgrade the damage dealt by their weapons with experience points (XP) they've earned. You'll be gaining power and skill as you advance through the game, fighting mobs of enemies, crawling, jumping, and swinging your way toward your ultimate goal – to rescue Eva and bring vengeance upon Heng Long for your murder, her kidnapping, and the defilement of the sacred Mayan landscape he built his factories on.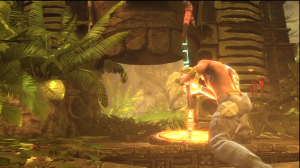 Where Marlow Briggs and the Mask of Death gets a little muffled is with the multiple types of gameplay implemented within each level. It's almost as if the developers decided that every level needed to include all of the types of gameplay to be fun, though many gamers will find this decision surprisingly monotonous and annoying at times. For instance, you'll start off a level beating multiple baddies, then move on to getting behind a turret and shooting down helicopters, then back to kicking some more baddie butt, then onto a boss battle that either involves beating them like you would the mobs or getting behind a turret and shooting at the boss. Rinse, lather, and repeat this through most of the game.  Still, as the game progresses you'll unlock new forms of weapons and powers to keep you interested, such as a whip or magic that burns your enemies alive, though you'll start out with the scythe that was impaled through your chest, nicknamed the Forsaken Sting, which will be your main weapon throughout.
Imagine the God of War series, the Castlevania series, and The Matrix had a baby, then they raised him in Africa, and you'll be able to picture Marlow Briggs and the Mask of Death perfectly. Marlow is a modernized, bare-chested and mystically tattooed protagonist with magic powers, who wields a Forsaken Sting that looks curiously like the Blade of Chaos. The landscapes are a mixture of metal and nature, with parts being rife with buzzing insects and soft natural lighting, while others are full of clanking metal parts moving around, and the deep reds of mechanical fire to light your way. The camera angles are very much like those within the Castlevania series, with several boss fights circling around the enormous machines or enemies, and the regular gameplay being at one uncontrolled angle that is meant to capture the area that Marlow can move around on. The problem with the camera angle choices is that since the camera is static, and only moves from scene to scene, there are points where platforms are not visible, or your approaching goals aren't realized until you've passed them.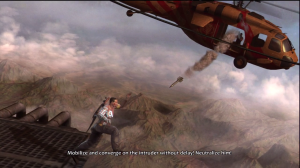 One great example of imagery, on the other hand, is that the game uses is something that feels like it's straight from The Matrix. Remember the bullet scene with Neo? Well, in Marlow Briggs and the Mask of Death, instead of a bunch of fully animated cutscenes, the transitions you'll see between levels include 3D action scenes in the form of static images that the camera pans around (and through). It tells the story through its imagery, and lets you feel like you're watching the main event in a graphic novel. The bad guys all look exactly the same though – kind of like clones, reminiscent of Agent Smith in The Matrix. Props must be given for this unique way to get a story across, even if there is no explanation as to why all the bad guys look like twins. The best part about these transitions is that Marlow will be seen from one angle slicing into an enemy, and as the camera pans past the bad guy's body, you'll see Marlow on the other side attacking his next victim. It's done in still frame, but makes it feel as if it's slowly moving.
Challenge-wise the game has three settings (Easy, Normal, and Hard), though it provides less of a hard playthrough than God of War or Castlevania, it's good to have something that makes you feel epic without frustrating you at every turn while you try to hone your skills.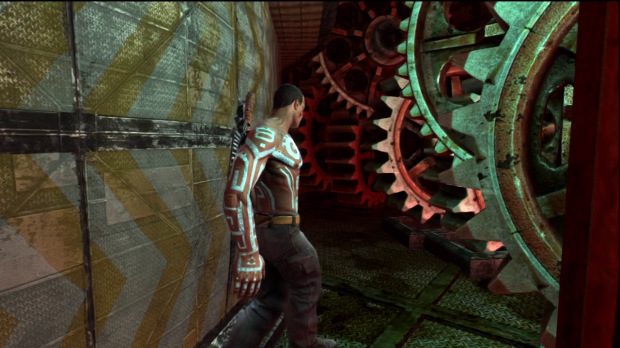 While Marlow Briggs and the Mask of Death is still $14.99 on the Xbox Live Marketplace, the PC version is currently $3.75 on Steam or Amazon. If you're looking for a nifty little adventure for super cheap, this is a great purchase for the price, and will provide at least a couple of hours of entertainment as a solo campaign. It may have a few little unwanted quirks, but the content is realistic and is definitely a fresh new concept for such a familiar game setting in the hack and slash adventure genre.