Metal Gear Rising: Revengeance – Blade Wolf DLC Review
The creation of Artificial Intelligence, or AI for short, has always been a slippery slope.  While humanity is capable of creating great and wonderful things, there is a chance of disaster with AIs.  They can be helpful and make tasks easier, but they also pose a huge risk: what if they become self-aware and hold a grudge against your orders, or they decide that humanity should be the ones enslaved?  Either way, malevolent or benevolent, one assumes that anybody would desire freedom.  This theme is central to the plot of the latest DLC package for Metal Gear Rising: Revengeance, entitled Blade Wolf.  Based around the titular character, this add-on focuses on a specific LQ-84 unit manufactured by  Desperado (the military group that our villains from MGR belong to) before it was eventually freed by Raiden, taking a new name and joining the swordsman's side.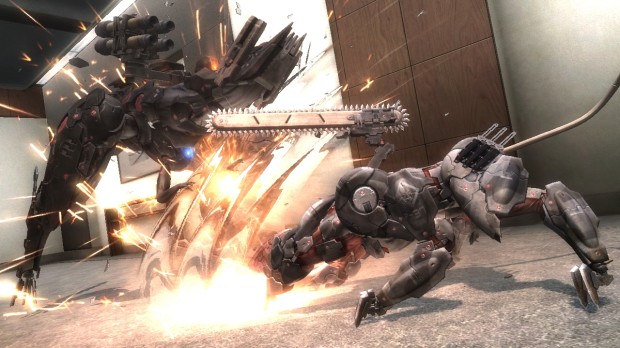 This downloadable tale opens on an LQ-84 unit (later known as Blade Wolf, whom players take control of) undergoing Virtual Reality (VR) training under the guidance of Mistral – a character that gamers will remember as an important villain from the main title.  The goal of these missions is to teach Blade Wolf the necessary skills and philosophies he needs to survive and complete his missions, although the latter of the two doesn't seem to stick.  While Wolf shows promise as a combatant, his limitations as a shackled AI prevent him from realizing that "killer instinct" that the Desperado group desires.  As Wolf learns and develops as an AI, he wishes more and more to be free; when Mistral attempts to extend his leash and give him the chance to make his own decisions, Wolf takes this opportunity and tries to break free from his master's grasp entirely.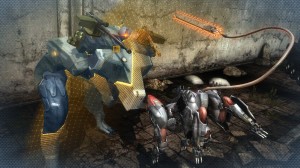 Now, with a theme like this, you would expect a lot of philosophical questions to be asked.  Can an AI really be 'free'?  Can a machine learn to feel?  What line separates a human mind from a mechanical one?  Is LQ-84, or Blade Wolf, 'alive'?  One would also expect there to be a great deal of character development alongside these inquiries, as an AI would need to learn and draw its own conclusions before making any human-like emotional decisions.  However, both of these elements are somewhat lacking in this expansion.  The subject of self-awareness and AI freedom is only lightly touched on in the beginning to set the scene, and when Wolf decides to become his own being, it feels slightly as though it was an impulse – rather than a conscious decision.
Our mechanical protagonist goes from being a mindless puppet to a completely self-aware being who can comprehend freedom at what seems to be the flick of a switch.  This could be due to the fact that the entire expansion is fairly short, as my personal run-through clocked in just shy of 46 minutes (though you can get about two hours total if you take in all the sights and additional features).  Had the story drawn out a bit longer, we could have had a very deep and thoughtful backstory for one of the game's more interesting characters, showing the difficult internal and external struggles of shifting from tool-of-war to sentient being.  Instead, while still a fun adventure, the chance to delve deeper into Blade Wolf feels like a hit-and-miss that's lacking in content – just like the Jetstream DLC before it.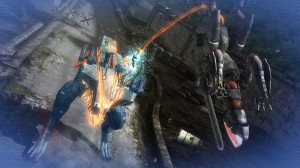 As for Wolf as a playable character, he is a pretty interesting beast.  In combat he is a simple-yet-fluid fighter, combining basic slashing and spinning attacks using his front-leg claws with sweeping strikes from his signature chainsaw blade – which he holds using his tail.  Our four-legged hero's tail also features the ability to use throwing knives which can stun enemies at range, allowing you to close in for the kill.  As with Raiden and Sam, Wolf can also use free-blade mode where the player can openly swing at weakened foes, chopping them into bits.  Our robotic hero can even take part in the Zandatsu move should players land a critical hit, allowing Wolf to forcibly remove the foe's internal fuel cells to recharge his own energy and health.  However, unlike Sam, Wolf is capable of stealth strikes; should you be able to sneak up behind or above a foe, you'll be able to take them down in a single strike, through a brutal animation involving either your chainsaw, throwing knives, or a dagger hidden in your tail.  The only downfall to our new character's playstyle is his distinct lack of combinations.  Possessing only the most basic combo strings, players will be using the same buttons again and again to take down their enemies, which can get dull quite quickly.  A few more intricate combos would have given our hero a bit more life, and elaborated greatly on his techniques.
VR missions also reappear in the Blade Wolf DLC, presenting gamers with some extra challenges.  As with both the main game and other expansions, players are presented with tasks such as killing all of the presented enemies or reaching a goal undetected, for example.  However, an issue found in Jetstream seems to have been left unresolved into Blade Wolf too.  In order to take part in these missions, gamers must find them as they traverse the main story's levels.  Once found, you have to put the narrative on hold to undertake the mission.  This means that, if you find a difficult challenge you would like to revisit later, you have to actually restart the campaign and find it again, or grind away at the mission until you beat it, breaking the immersion into the DLC's story.  A chance to revisit these sub-missions from the main menu (a feature present in the original MGR story) would have removed this grief, making the VR missions seem less of a hassle.
Previous Image
Next Image
In closing, the Blade Wolf DLC package for Metal Gear Rising: Revengeance is a bit of a letdown.  A short campaign that once again misses the chance to explore a very unique character in the series is wrapped around very simple (albeit fun) gameplay, which will leave gamers feeling a bit unfulfilled.  If you're a huge fan of MGR, and are looking for any reason to put it back in your disc tray, then you'll be barking on all fours for this.  Otherwise, even the reduced 560 Microsoft Point ($6.99) price seems like a lot to ask for this adventure.  Sorry, but it looks like not every dog has his day.