Pro Evolution Soccer 2014 Review
This game was reviewed on the PlayStation 3.
Year after year, the struggle between Pro Evo and FIFA continues unabated, with most football fans firmly entrenched on one side or the other. Both series have had their years in the sun, and whilst FIFA has more recently come out on top for the current generation of consoles, Pro Evo can arguably lay claim to being the best football simulation for the PlayStation 2 era. With Pro Evolution Soccer 2014, though, Konami has made some of the biggest changes to the series that this generation of consoles has seen, with the most notable being the implementation of their new Fox Engine technology, which allows for improved animations and physics. Is this enough to make Pro Evolution Soccer 2014 a title contender, or does it reduce the series to mere relegation fodder?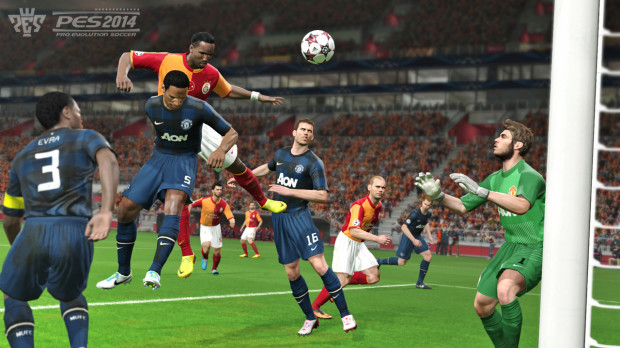 As usual, Pro Evolution 2014 features the same sporadic licensing that has dogged the series for as long as most gamers will remember. While some major leagues, such as the Liga BBVA from Spain, are fully licensed, and a whole host of new South American leagues such as Chile and Argentina are included, other major leagues such as the English Premier League only have one or two teams with the correct name, badge and kit. Despite this, player names and likenesses are all fairly correct, even if, at the time of writing, the game doesn't feature the vast majority of transfers that were conducted during the summer transfer window. For fans of the FIFA series, and its near-complete licensing, it may come as a bit of a shock to be playing as North London instead of Arsenal, or Merseyside Red instead of Liverpool. For long-term fans of Pro Evo, though, this is merely how things are, and most die-hard fans will tell you they don't come for the fancy licensed packaging, they come for the gameplay.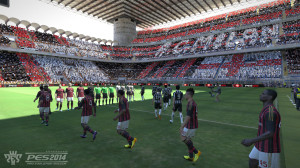 Luckily for them, Pro Evolution Soccer 2014 certainly plays as you'd expect from the series, with a much slower tempo than FIFA, and more of a need for tactical, thought-out buildup play, as opposed to frantic through-balls over the top of the defence. The Fox Engine brings some impressive animations to matches as well, with the new MASS (Motion Animation Stability System) creating some incredibly realistic player interactions, particularly with slide-tackles. Players will now fall based on where they've been hit on their body, with a full-on frontal slide tackle creating a completely different reaction than a late clip of the ankles. You'll see a lot more evidence of players holding the opposition at arm's length as well, shielding the ball whilst stationary, or using their shoulders in an attempt to outmuscle those running alongside them. The ball itself is clearly an object independent of the players now, as it's no longer tied to a particular player's animation. This can create some chaos when it begins pinging around a crowded penalty area, and means that you really need to make sure that your player has the ball under close control at all times.
What most of these seemingly aesthetic changes bring to the game is that Pro Evolution Soccer 2014 plays and looks a lot more like an actual game of football, and this makes you realise just how scripted and pre-assigned animations in previous entries of both Pro Evo and FIFA have been. The sense of authenticity is added to by the new Heart feature, which governs how the crowd, and in turn, the players, react to the events happening in-game. Heart is most noticeable during particular instances, such as scoring an early goal, or managing to snatch a late equaliser, though it more obviously affects the crowd than the players, with the volume and frequency of chants noticeably increasing when the intensity of the game picks up. Heart is supposed to affect the mental attributes of players, but with my time spent with the game, I couldn't really tell much of a difference in their performance levels following these incidents. It may instead be one of those inclusions that requires a few months of dedicated play to really begin deciphering adequately.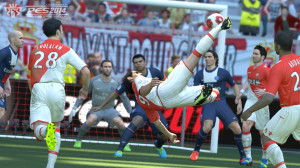 There are a couple of instances within the game that highlight how much the Fox Engine has improved aspects of Pro Evolution Soccer 2014, and not in a positive manner, as they feel like elements that have been left behind. Firstly, and famously for the Pro Evo series, the commentary is quite poor, with much of the delivery being particularly flat. While it's a neat touch that the commentators will remark on whether a certain player has scored a goal, or made an assist in the game, they usually sound disinterested, and there's a noticeable gap between the mention of a player's name and the comment that they're attempting to make about him. The other aspect of gameplay that appears lacklustre when compared to the rest of Pro Evo 2014 is the act of goalscoring, which should be one of the most exciting areas of a football game. Shots are noticeably flat and lacking in any sort of verve, and goalkeepers (even top performers such as Lloris or De Gea), feel as if they've been brought across from non-league, as they're best described as flappy, and at times seem completely disinterested in blocking shots, particularly on the rebound.
Outside of matches, Pro Evolution Soccer 2014 is a mixed bag of interesting game modes and fairly boring presentation. The game has two major modes: Football Life (which contains within it Become A Legend and Master League), and Competition, which features the UEFA Champions League, Europe League, the newly licensed AFC Champions League and more. However, a day-one patch unlocks online multiplayer, including an online version of the Master League, and later patches will bring further gameplay options, including 11v11 online multiplayer. It's strange that these features weren't included at launch, and that some options may come up to a month or two after launch, but on the positive side, at least it keeps the game fresh. What's more, Konami is promising regular free Data Pack Updates, which will bring extra kits, balls and stadiums, as well as a pack that includes more realistic facial renderings for many of the players in the game.
Previous Image
Next Image
Both Become a Legend and Master League have been featured before in the Pro Evo series, and it doesn't seem as if there's a lot different on offer in the 2014 showing. Become a Legend sees players taking on the role of a single footballer, either already existing or newly created, with the objective of becoming one of the best in the world. Master League puts players on the other side of the touchline, operating as the team's manager, and again, the objective is to make your team world-renowned. Become a Legend is perhaps most different from the usual Pro Evo experience, seeing as you're controlling just one player on the pitch, although this isn't always a positive as, depending on the position you choose, it feels as if a lot of the time spent with this mode sees you watching the ball, as opposed to being able to actually join in. A positive note is that when your player is substituted, you have the option to fast-forward through the gameplay, meaning that you don't have to sit for 10 minutes watching the AI pass the ball around.
Where I can imagine most players spending their time, though, is within Master League Online, particularly once the early online issues with the game have been ironed out. Master League Online is almost a throwback to the Master League of the previous console generation, with teams starting off from the bottom, with unknown players, and the objective of signing a group of awesome players and making it to the top of the league. Points gained are determined by results in matches and these points are then used to bid on players, though most leagues have a salary cap which prevents players from creating an unstoppable team of superstars. Master League Online feels as if it has the most longevity of the modes on offer within Pro Evolution Soccer 2014, and looks to be the best opponent to EA Sports' Ultimate Team behemoth.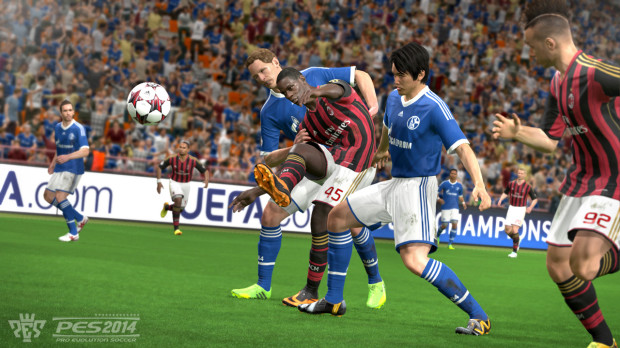 Whilst the Fox Engine brings innovative and much-welcome changes to the series, it is clear that it is pushing the current-gen hardware to the limit. Loading times, particularly pre-match, are in two long-winded stages, and unlike FIFA, there are no mini-games designed to distract you. In-game, framerate issues are common, particularly when the ball crosses the line for a corner or a goal-kick, and stuttering is a fairly regular occurrence. Thankfully it never really seems to happen in open-play, which would create even more of an issue. Still, it's glaringly noticeable, and a stark reminder that you're playing a videogame. Also, while player models look a lot more humanlike than previously, they still have a plastic sheen to them, with close-ups making the teams look like groups of sentient mannequins rather than real-life footballers.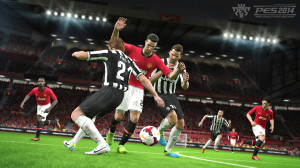 The main question surrounding Pro Evolution Soccer 2014 is 'Does the Fox Engine bring enough to the table to put the Pro Evo series on top of the footballing pile?' The answer, right now at least, is not yet, but it certainly goes a long way to closing the gap. Player animations and interactions are perhaps the best seen in a football game to date, but game modes and presentation still leave a lot to be desired. What's more, it's clear that the Fox Engine is hampered by current generation consoles, and that it won't be able to fully spread its wings until we see it on the PlayStation 4 and the Xbox One. There's still a strong footballing experience here, and Pro Evo devotees should be impressed, even if the game itself perhaps isn't enough to draw over a few of the FIFA crowd. However, with the evidence on show in Pro Evolution 2014, FIFA might want to keep looking over its shoulder next-gen, as there could well be some blood spilled when these two football giants fight it out for the next-gen championship title.