Raven: Legacy of a Master Thief – Eye of the Sphinx Review
This game was reviewed on the PC
Some say The Raven has been reborn. Others say he has an heir. Either way, a master thief has resurfaced in London. It's up to you to uncover the truth and stop the slippery criminal in his (or her) tracks. The game takes place in Europe during the 1960s, four years after an infamous thief called The Raven met his demise at the angry end of a pistol. The shooter, Inspector Nicolas Legrand, has been tasked with investigating the recent theft of a priceless jewel named Eye of the Sphinx, and to ensure that its twin makes it safely to the museum in Cairo. Plagued with recent events, Inspector Legrand begins to suspect he shot a decoy instead of the real master thief. Has The Raven truly returned? Nordic Games teams up with KING Art, to bring you three episodic games that will answer your questions and more, beginning with Raven: Legacy of a Master Thief's first chapter: Eye of the Sphinx.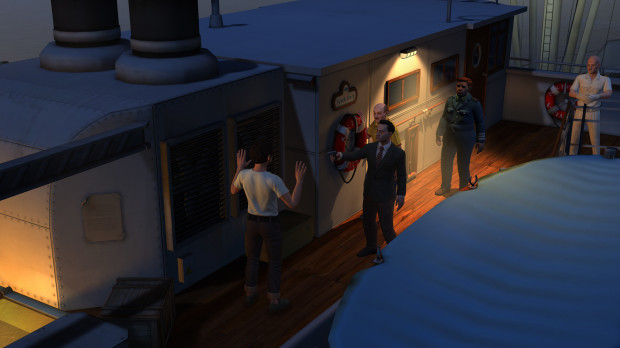 Sometimes, it's really refreshing to have a protagonist that isn't a clear-cut superhero – not to be confused with the current trend of Dexter type characters, where they are evil in nature but you want to cheer them on anyway. We're talking about the kind of gentle, good-natured fellow that is in the wrong place at the wrong time, and has the drive to keep fighting for truth and justice, without rippling muscles, superpowers, or even a full head of hair! Constable Anton Jakob Zellner from the Swiss Police is a loveable character, and one that you root for because he is clearly an underdog, fighting for the chance to prove to Inspector Legrand (and perhaps even to himself) that he is a good police officer who can help crack the case. He has a heart condition, love handles, and several wrinkles declaring his maturity, but he's certainly not too old or too weary to get himself out of quite a few dangerous predicaments, saving others along the way! Legacy of a Master Thief doesn't pretend Zellner is capable of doing more than would be plausible with a man in his shape and at his age, but it really makes you believe this could be a real person thrown into extraordinary circumstances.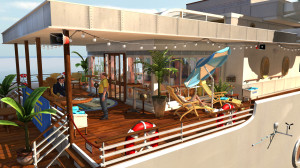 Constable Zellner has been assigned to ensure the safe passage of Inspector Nicolas Legrand, his belongings, and his team: Baroness Von Trebitz (and her butler, James), Constable Robert Oliver from Scotland Yard, and Professor Edgar Lucien. Players will begin their adventures aboard a train en route to Venice, with plenty more characters to interact with, such as the mischievous little redheaded boy Matthew Miller and his mother, or Lady Westmacott, a famous novelist who just happens to be Zellner's favourite author of all time! The interaction between the characters and the way the storylines intertwine is a very big part of the game's charm, and will keep players dying to uncover the secrets behind each and every passenger.  Zellner will find himself gaining a playful fondness for little Matty, maintaining a love-hate relationship with Constable Oliver, and relying on Lady Westmacott's keen deductions during the course of the game in this social 'whodunit' storyline.
Legacy of a Master Thief is a very simple point-and-click adventure. The only buttons you will concern yourself with is the left or right mouse buttons (they are interchangeable) to move your character or interact with relevant objects, and the space bar if you'd like to get a hint. The hint system is a little different than in most point-and-click adventures, as using the hint button will deduct 10 points from your overall endgame score. Hitting the space bar will highlight objects in the current room with a little magnifying glass. This only flashes for an instant and lets you know what to click on, so make sure to look around quickly if you tap that space bar!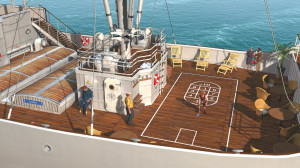 While the storyline and the characters are fantastic, there are some inconsistencies in the game that may confuse and frustrate players. For instance, having to find wire to pick a lock is fine, even having Zellner automatically pick it is okay. When you find a wire for the next lock, and all of a sudden you have to actually pick it (without any instructions or indications of how this is done), instead of Zellner automatically doing it, could feel like a step towards a higher difficulty level as you've progressed in the game. If the next lock after that you didn't simply auto-pick again, it would make sense, but reverting back to an easier system may leave players feeling like their accomplishment was just a waste of time.
Where Raven goes above and beyond the call of duty is with its stunningly beautiful backdrops. The game is done in a semi-realistic environment, with the characters (and immediate surroundings) done in clear, polished animation, while the backgrounds are so astonishingly detailed that you could almost mistake them for real footage. The opening cutscene felt almost like we were watching a movie that was giving us a tour of the Swiss Alps, and finally moving on to a train which was animated clearly (but less realistically, almost like Polar Express), with fine details like blowing steam in the wind and carefully placed — only slightly opaque – credits moving in and out softly with the motion of the scenery. While on the train, you'll notice the mountains and forests moving swiftly by, with as much detail as was in the opening scene. This contrast may seem like it wouldn't fit, but it blends in perfectly, and you may even find yourself pausing to watch out the windows as you play!
Previous Image
Next Image
Sadly, nothing in this world is perfect, and while pretty to look at, the graphics can cause some annoying issues with gameplay.  These issues come to light in part because the layout of the game is isometric, providing more depth to the environment, but also creating some big interaction-based and navigational problems. Players will find themselves trying to click and hold the mouse button in different, random areas to coax Zellner into performing how you want him to, such as having him walk into the next scene. If there were an option to use the WASD keys, or not have the inventory at the bottom of the screen where you need to click to leave a room, much of this frustration would be avoided. Clicking on objects can be equally as frustrating, based on the camera angle in the room or which way Zellner is turned. Zellner even has a particular spot in the cargo bay by the lockers where he likes to vanish into thin air, and the only way to correct this is to try to exit the room. Players may just want to scream "over here, stupid!" performing simple tasks, as even once you've seemingly gotten your way, Zellner tends to just stand there and sway, often mechanically and awkwardly shifting back and forth in place, or getting stuck on obstacles and walls and continuing to walk (while not moving), as if the obstacle wasn't there.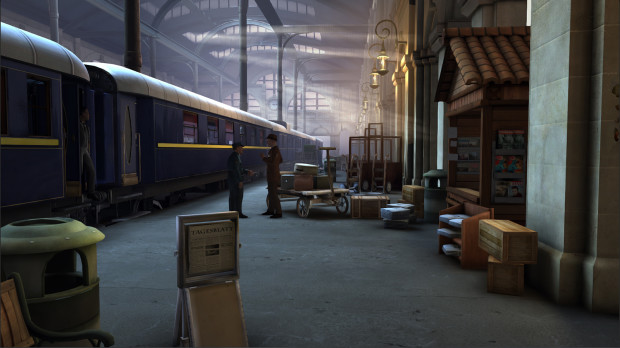 If absolutely gorgeous musical scores are your thing, this game has exactly what you're looking for.  Composed by Benny Oschmann, and performed by the Brandenburg State Orchestra of Frankfurt, every score fits the theme, the emotion of the moment, and the game itself perfectly. The main theme is lighthearted and full, with flute, violin, and brass coming together in a wonderful Overture that seems to weave its way in and out of your ears as you play through the game. Moments of intense action or emotional distress are met with scores that are much harder, lower, and darker than the theme, with gradual tempo changes that are bound to make you feel the urgency of your situation. The soundtrack is also unlockable as you play, so you can enjoy the music anytime you'd like, even if you aren't playing the game!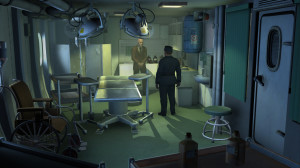 Bringing the characters to life with the voice acting and sound effects, Legacy of a Master Thief adds even more depth with your auditory experience. Most of the game is done through dialog and cutscenes, using the power of conversation to get to the truth. Each character has their own unique flare, with Zellner using a lighthearted, gentler Swiss accent, in contrast with characters like the gruff and boisterous Constable Oliver, or the young, energetic Matty. With the rich variety of voices, coupled with the background sound effects like the chugging sounds of the locomotive in motion, or pencil scratching on your notepad when new information is discovered, the game does a remarkable job of sucking you into its story, and making it feel as if you should go grab some popcorn and enjoy the show.
At the end of your adventure, the credits will roll and then you'll see a screen that shows you how many secrets you've solved, how many Adventure Points you received for them, and how many deductions you've obtained from using hints. It's still a little unclear what the Adventure Points go towards, but this may just be an indication of how well you've done overall. Without spoiling too much of the storyline, it's hard to say if the main character will remain Constable Zellner, or if The Raven will continue the adventure through new eyes.  The game is a full, three episode purchase, which turns out to be roughly $9.99 per episode. This is the first installment and runs about three or four hours to completion, and the next Episode, Ancestry of Lies, will be ready for your eager mouse clicks as of August 27, 2013!