Ready in Your Corner! Real Boxing Review For PS Vita
This game was reviewed on the PS Vita.
Want to float like a butterfly and sting like a bee, but a lifestyle buzzing with commitment is keeping you away from your console boxing titles?  Fear not, you can take your brawls on the go with the downloadable Real Boxing from Vivid Games for the PlayStation Vita.  Is this simulator of the sweet science aptly named, or is this another book you can't judge by its cover?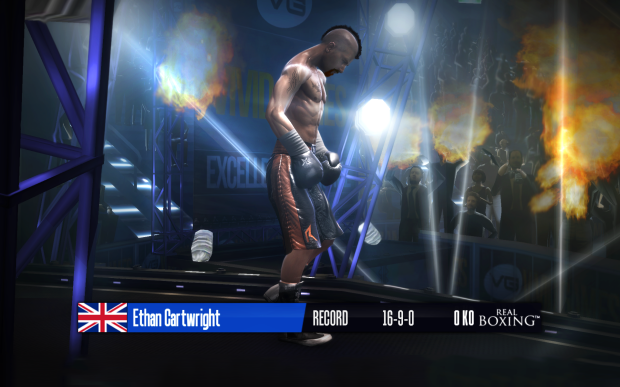 After downloading the title, players will be asked to put together a quick profile, by selecting a pre-made character, name, and country of origin.  Don't worry though, you'll be able to completely customize your character's look later on, including skin tone, tattoos, hairstyles, and the colour of your shorts.  After your profile is set up, the game leaves you to your own devices, letting you openly choose between all of the game's modes.  However, when you first select any mode that sees you step into the ring, you'll be given a quick fight tutorial to learn the game's base mechanics.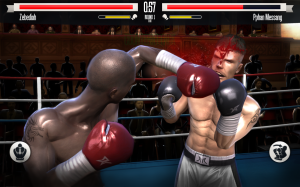 Real Boxing's controls are easy enough to understand, and can even be quite intuitive.  Players move around the ring using the left thumbstick, and can throw jabs, hooks, or uppercuts using the D-pad for your left hand, face buttons for your right, or different directions on the right thumbstick for both.  For example, pressing the D-pad up will throw a left jab, and pressing Circle or Square will toss a right hook.  You can also tilt the right stick to the upper-left and middle-right to use the same strikes.  Holding L while performing these actions will modify your strikes into body blows, giving you a different attack approach.  To block you'll need to hold R, and you can only block three strikes before your guard is broken.  Alternatively, you can tap R at the right moment to dodge an incoming blow.  When low on health, pressing L+R together within range of your opponent will land you in a Clinch, where you grapple with you foe to bide time and recuperate.  To win this grapple, you need to tilt the Vita, keeping a marker balanced within the rounded tilt-meter.  Finally, you and your opponent each have two status bars: one for health and another for stamina. Take blows and your health will decrease and run out of stamina, also resulting in your blows being a lot slower and weaker.
Should you feel like using the touch screen, you can make various motions in lieu of buttons by going into the setting outside of a fight. Unfortunately, you cannot switch out buttons for touch screen on the fly, so be mindful of this before you jump in.  Tapping the screen on either side will jab, swiping left or right will hook, and flicking up will uppercut.  Icons on the screen allow you to use the block, dodge, and clinch mechanics, so give them a tap if you need them.  While the symmetrical setup of both the touchscreen and button control schemes feel natural and well conceived, any gamer taking the title remotely seriously will be using the right stick to punch.  The reason for this is that the other two layouts require you to take your thumb off the left stick to attack with your left hand. This either prevents you from moving about the ring while you combine punches, or limits your strategy to purely right-sided attacks. If you have some fast thumbs, you can overcome this layout, otherwise you'll be using the easier choice of the right thumbstick to attack.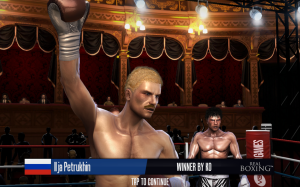 Real Boxing features the following game modes: Career, Quick Fight, Multiplayer, and Gym.  Most of your time will be spent on Career, taking part in one of three tournaments: Bronze, Silver, and Gold.  Each tourney increases in difficulty as you win fights, and every fight contains a challenge to complete, such as starting a Clinch then winning the fight, as well as a reward for winning the skirmish – like upgrade points for enhancing your character.  While the name is a bit deceiving, as it is a simple tournament mode and not a full-blown career simulator, it serves as a nice way to enhance your character and stats – though it's a bit repetitive. If you're just looking for a quick way to sharpen your teeth, however, Quick Fight will be more to your liking.  Players simply pick an opponent to fight, and step into the ring to take them on.  No rewards or special mechanics are added to this mode, just the simple goal to beat the consciousness out of your AI opponent.  Computer-controlled characters are too easy for you?  Sign into PSN and take on some real players!  Over 3G or WiFi, gamers can compete in either single fights or full-fledged tournaments, and via local Ad-Hoc you can take on one of your buddies for bragging rights as best fighter.
As you win these fights you're given cash, which can then be used to upgrade your character's three main stats: Strength, Stamina, and Speed.  As you can guess, Strength determines your attack power, Stamina allows you to throw more punches before tiring, and Speed makes your attack rate faster. To make your character slightly more powerful, you can also equip up to two different Perks. These skills allow some added benefits, such as getting up faster when knocked down, or making the Clinch mini-game easier.  To unlock more of these, players can take part in four mini-games: Punching Bag, Skipping Rope, Speed Bag, and Sparring.  In the first three games, players have a set time to press specific buttons at the correct moments to fill a Perk progress bar.  If the bar is filled before the time runs out, a new Perk is unlocked.  Fail, however, and you must finish a fight to try again.  Sparring, on the other hand, is just a nice place to practise your skills without the fight showing up in your official stats.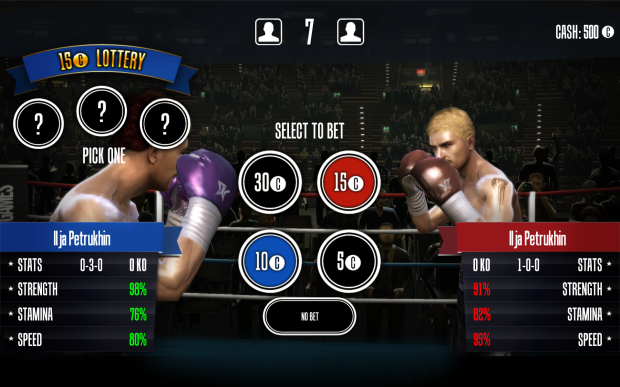 Unfortunately, Real Boxing has a few major downfalls, one of which is the game's visuals.  In terms of actual power behind the graphics, the title isn't half bad for a portable game, but its design and animation may let you down.  Your fighters are somewhat disproportionate, with skinny and long forearms not quite matching the rest of their muscular bodies.  As well, although you can customize your character's appearance, all characters have the exact same sculpted body type and size, like painting the same model of car a few different colours.  Finally, the actual fight animations are fairly sloppy in places, as though they were unfinished.  Many a time during my fights in Real Boxing, I felt as though I was controlling a wooden figure, not a professional boxer.  A little bit more variation in customization, and some extra attention to the animations would have made Real Boxing a visual treat.
Something else to consider with a boxing title is the audio, which is used quite sparingly in Real Boxing.  Outside of the matches, you'll hear upbeat rock riffs to keep you motivated (think "Eye of the Tiger"), while all you'll hear in fights are the combat sound effects, a bit of ambient crowd noise, and the occasional referee commentary. This is one of those games you should listen to your Vita's own personal music collection while you play, to keep your ears from being dreadfully bored.  Although the lack of noise creates a realistic and almost artsy atmosphere, it's not going to do a lot to enhance gameplay, either.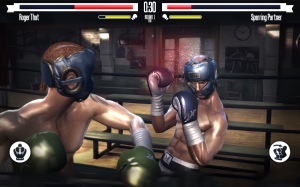 All in all, Real Boxing will be a very good place for gamers to get their boxing fix on-the-go.  While it's far from replacing console-based sports titles, it's interesting (if limited) controls, and virtually limitless gameplay will keep you entertained until you can get home to your TV or game console.  Just note that it's not quite as pretty in the visual department as it could be, as the animation and design holds it back.  If you're down to glove up and throw down, then Real Boxing should hit your download queue as soon as possible!