Scourge: Outbreak (Review)
This game was reviewed on the Xbox 360
In Scourge: Outbreak, players fight for a group called the Tarn Initiative.  Their objective is to take down the power-hungry Nogari Corporation, and reveal the secrets behind their power source known as Ambrosia.  Discovered after a meteor hit Earth, Ambrosia has allowed Nogari to tyrannically take over the majority of the world.  Gamers control members of an elite group in the Tarn Initiative called Echo Squad, who are tasked with two objectives:  find one Dr. Reisbeck, who is a Tarn agent deep under-cover within Nogari, and recover a fragment of the fallen meteor to help uncover and reveal all of Nogari's dirty corporate secrets.  However, not everything goes according to plan, as Echo Squad is betrayed by a fellow squad interested in obtaining Ambrosia for themselves.  Making matters worse, it seems Ambrosia comes from alien DNA, which leads to an outbreak of a powerful insect race known as The Scourge.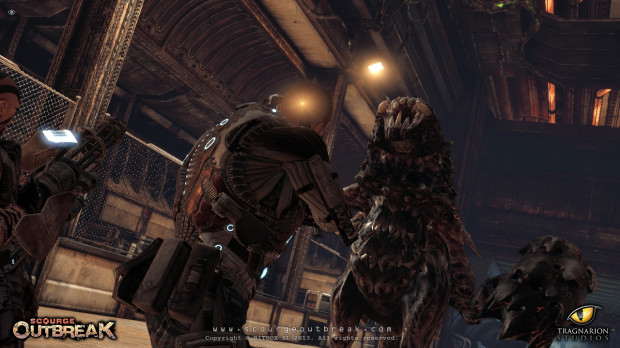 Gamers will have the ability to take control of one of the four members in Echo Squad: Mass, Stonewall, Amp, and Shade – each with their own stats, preferences, and Ambrosia-Suit abilities.  For the most part, Outbreak plays very similar to the Gears of War series, as the game is played from the third-person perspective with players able to take cover behind, shoot from, or vault over various environmental set pieces.  Up to four players may also play together via online co-op to tackle the game together.  Should any character sustain too much damage, they will be "downed," taking a knee and becoming unable to act.  This character will then have a timer over top of them, displaying how long until they are unable to be revived. Should all four characters go down (or a downed character runs out of time and dies), the game is over – with players restarting at the nearest checkpoint.  Unlike the GoW series, each of the four characters has his/her own strengths and abilities that complement each other.  For example, Mass is proficient in heavy weaponry, so he has greater stability with them, whereas Shade trades defence and melee power for greater accuracy with all weapons across the board.  While still maintaining the general feel of the game, each character will play distinctly different from the others, enabling gamers to adopt different playstyles.  As well, the character you select will affect your perspective on the story, via altered in-game conversations and flashbacks – creating four slightly different tales, and adding to the game's replay value.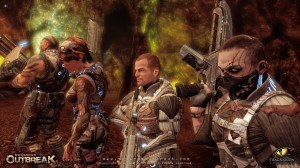 Each character also comes equipped with special combat armour, which is powered by Ambrosia.  These suits allow the players to use two different Ambrosia abilities:  Shields and Shockwaves.  As you may have guessed, Shields can be used to block incoming fire and attacks, while Shockwaves are used to defeat or stun foes directly.  Two different styles for either ability are available (static and dynamic), though the type you can use is determined by your character and not a feature you can select yourself.  Static Shield can be placed down, allowing you to move around them and fire your weapons while it's active; Dynamic Shield, on the other hand, can be moved around while in use, trading offence for mobility.  Shockwaves work in similar ways, being either centered on the user for close range, or being projected out a specific distance for reach.  Each variation has its own strengths and weaknesses, so using them in collaboration with your teammates is critical to success.
Should you choose to play the game without a full lobby of players (or solo), the remaining characters will be controlled by AI.  These computer-controlled teammates have actually been programmed very well, as they focus on, and stick close enough to, the player to be of immediate help without getting in their way.  They take cover in strategic locations and make an active effort to revive downed players.  However, should you have a better strategic mind than the AI controllers you can give instructions such as Take Cover, Open the Door, or Revive Teammate to make things run more smoothly.  A simple press of the command button will send the teammate nearest to your target over to complete your task, while holding the button will allow you to select a specific member for the task.  This system comes in handy, as you can assign specific roles to squad members based on their characteristics (like having Mass with a heavy weapon bunker behind cover, while Amp quickly runs to revive Shade).
Like most shooters, Outbreak features specific stats for each individual weapon (such as Power or Accuracy) with room for improvement via attachments, such as scopes and foregrips.  However, these augments can only be found pre-installed on weapons collected from defeated enemies, meaning if you want an SMG tailored to stability, you have to happen upon one by luck.  Due to this, a lot of the time you will feel improperly equipped for your character – which is quite a frustrating experience.  Having an actual customization menu (available either at the start of round or at stations throughout levels), would have given the game a lot more personality and variety.
Scourge: Outbreak also features an online competitive multiplayer mode with three game types (Deathmatch, Team Deathmatch, Capture the Flag) across five different maps.  The two Deathmatch modes see eight players fighting either free-for-all, or on two teams of four in a race to reach a certain kill-limit.  Capture the Flag is a bit more strategic, however, with players attempting to take the enemy flag and return it to their base while simultaneously defending their own.  The Shield and Shockwave mechanics make Outbreak's multiplayer games very interesting, leading to some crazy battles, but there is a bit of a problem: the community.  It seems as though Outbreak lacks a dedicated group of players, as even quick searches usually result in an endless search for even one other player.  When you can actually find a game and start to play, you'll find the experience to be very entertaining, though you may abandon all hope of ever playing quite quickly due to the long wait times to find a match.
In terms of graphics, Outbreak is very visually appealing considering it's an arcade game.  Character models and animations have been crafted to move fluidly and realistically in and out of combat.  On top of the basic models are some fairly good quality textures, showing off using fine detail, but avoid any of that ugly texture pop that usually accompanies it.  What's most intriguing though, is the style used for both the characters and the environments, which feature several unique and intricate designs that set Outbreak apart from other shooters.  Character's Ambrosia suits have a very futuristic and technological appearance to them, while the characters themselves usually possess some kind of aggressive visual flair, such as Amp's wide variety of tattoos or Shade's facial scars and mechanical mouth cover.  Enemies have a fascinating look as well, namely The Scourge, with their terrifying spider-like design – especially when swarms of them come at you across the walls!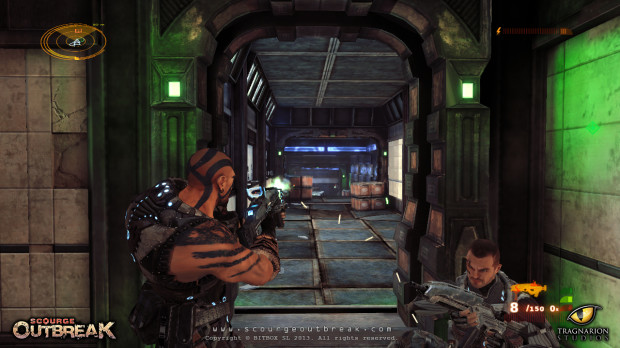 The title's audio, on the other hand, leaves a lot to be desired.  The soundtrack in-game is quite unmemorable, using tense yet simple themes to do little more than fill in the audible blanks.  Voice acting is also bland, with the same range of tones and emotions being portrayed across almost every conversation.  Those dialog scenes that do vary from the general performance are quite overblown, such as using a ridiculous amount of sarcastic tones when just a little would have done.  The only saving grace are the sound effects, which keep things sounding interesting.  Unlike most arcade games, Outbreak actually features a wide array of sounds, from the different bangs and pops each weapon makes, to the hums and cracks from Shields and Shockwaves.  Players will mainly find themselves bored with the audio delivery, turning instead to stream their own soundtracks through their Xbox.
Previous Image
Next Image
In a world full of shooters, Scourge: Outbreak is a great buy that stands apart from the crowd.  With unique gameplay mechanics, tactical co-op, and a stylish visual design, the title is held back only by its lack of a multiplayer community, non-customizable weapon system, and generally uninteresting audio.  The plot takes a little over six hours to run through, and will mostly keep players interested from start to finish. If Gears of War or Mass Effect 3 games have lost your interest, and you want something new to do, then this is a definite download for you!