Skylanders SWAP Force Review
It's been two years since the release of Skylanders: Spyro's Adventure, a surprise hit that proved successful with both kids and (secretly) adults alike. Last year's Skylanders Giants proved that the success of the first title wasn't just a flash in the pan, and so, 2013 sees the release of Skylanders SWAP Force, the first game in the series that requires replacement hardware, and the first title to not be developed by Toys for Bob (Vicarious Visions takes over that duty this time around). Due to SWAP Force's figurines having a different setup to previous games (the figure is split into two, which enables players to swap their toys' tops and bottoms at will, hence the SWAP Force title), a new Portal of Power is also required. This means that potential buyers will have no choice but to purchase a starter pack (containing the game, portal and three figures), regardless of whether they already own a previous title in the Skylanders series. Thankfully, if you do already own Skylanders figures, they can all be used within SWAP Force, including both Giants and Lightcore varieties.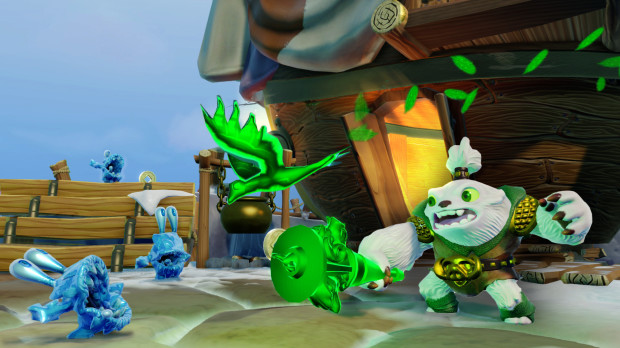 Skylanders SWAP Force opens with a brief introduction of how the SWAP Force came to be, and how they are able to swap their top and bottom halves. Players are then shown that in the present day, Kaos (the antagonist from the previous two Skylanders games) has come up with a new plan to take over Skylands, which involves 'evilising' the ancient Elementals, so they'll do his bidding. Needless to say, the Skylanders set out once again to foil Kaos' plan, and it is here that SWAP Force begins. The game takes players through a variety of Skylands' environments, such as swamps, graveyards, deserts and jungles, and though visuals are disappointingly low-quality, there are plenty of bright colours on show, and some of the elemental areas (particularly those to do with the magic element), are conceptually interesting. There are some clipping issues present, such as NPCs wandering through Skylanders' bodies during conversations, and mild popup of particular objects, but most of these issues will go largely ignored by kids, and don't impact the overall experience to any meaningful extent for adults.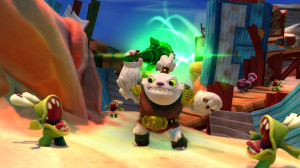 Much of the gameplay within SWAP Force will prove familiar to those who have played the previous games, or to anyone who has played Action-RPGs such as the Torchlight or Diablo series.  Players venture through various regions, fighting off enemies using a selection of attacks, and Loot is often in plentiful supply. This Loot is in turn used to upgrade Skylanders' skills and abilities, and also to purchase equipment such as hats or charms, which can provide boosts to a character's statistics. What's more, if you're willing to venture off of the main narrative path, SWAP Force contains a huge amount of content and optional collectibles, such as Legendary Treasures (which provide stat boosts to every Skylander), Soul Gems (explained below) and Story Scrolls (which give background story information). While some of these can be found through basic wandering, others are earned by performing tasks for NPCs, such as recapturing escaped sheep, fishing for piranhas, or shooting down enemy aircraft with a cannon. At the end of each level, players are ranked on their performance, with up to three stars awarded for completing the level and meeting secondary objectives. Further stars can be earned by meeting objectives such as using a certain number of SWAP Force combinations, and these stars go towards a player's Portal Master Rank, which unlocks items to be purchased in shops at certain levels.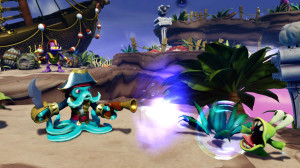 For the cynical observer, SWAP Force goes further than any previous Skylanders game in encouraging kids to pester their parents for extra figures. In addition to the usual elemental differences between figures, which unlock certain areas, each SWAP Force character has a particular ability, such as speed, teleportation or climbing, that is used to unlock gates within levels. Some of these abilities are tied to Skylanders that haven't yet been released, meaning that it is currently not possible for players to experience everything that SWAP Force has to offer. There are also gates within the game that require two different elements at once to open them, but these can also be unlocked by two players using two Skylanders of different elements. What's more, the aforementioned Soul Gems (which unlock extra powers for particular Skylanders), can be seen as an extra attempt to encourage further purchases, as they often unlock powers for Skylanders that you don't currently own, and even offer players the chance to watch a short video advertising that figure's abilities.
For children, which is clearly SWAP Force's target market, this new entry in the Skylanders franchise is a treasure chest full of fun and excitement. From the colourful and varied visuals, to the charming and playful music (composed by Lorne Balfe, taking a break here from his more sombre Beyond: Two Souls gig), to the strong standard of voice-acting, seeing SWAP Force in action is much like watching a beloved Saturday morning cartoon. Character design is good, with the new Skylanders on offer being pleasing to the eye and having a wide range of abilities, and many of the new NPCs are charming and amusing, with the ever talkative raftsman Snagglescale being a particular delight. Even the enemies often come across as cute, such as the adorably named Grumblebum, and they perform a wide range of established gameplay roles, such as melee and ranged attackers, healers and turrets.
Previous Image
Next Image
Skylanders SWAP Force is a continuation of the Skylanders series that stays true to the roots of the franchise, but does enough to present a fresh experience for veterans. Though detractors will still obsess (somewhat reasonably) over the extortionate cost required to see everything that the game has to offer, the sheer amount of content is admirable, and should be enough to keep kids and adults alike busy for quite a while. There are some visual hang-ups which provoke thoughts about the inevitable next-gen facelift, but overall, the charm of the game and its wide array of endearing characters shines through. Skylanders SWAP Force will be a perfect present for kids this holiday, and also does enough to encourage adult gamers to dip once more into a world of childlike wonder.