Splinter Cell: Blacklist Review
This game was reviewed on the Xbox 360.
When one thinks of stealth espionage action, and plots full of political conspiracies, one's mind probably jumps to one of two places: Metal Gear Solid, or Splinter Cell.  Today we'll be talking about Sam Fisher in his latest game, Splinter Cell: Blacklist from Ubisoft Toronto. While the last few titles have taken a few missteps, the latest in the series is one heck of a giant leap in the right direction.  What is it about Blacklist that brings back the series to its former glory?  Read on and find out!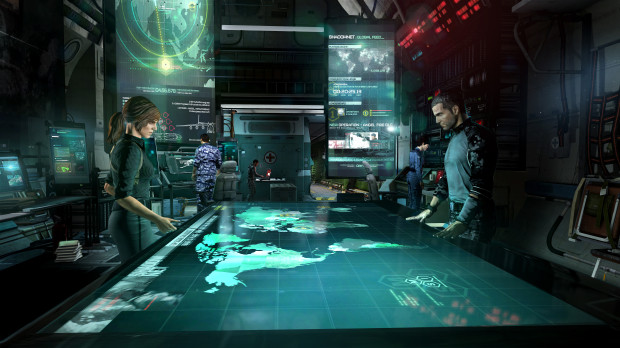 In Splinter Cell: Blacklist, Sam is working for his buddy Victor Coste as a private consultant.  Life is good; he has his daughter back, and he's about to start a simple check of an air force base's security.  However, at the same time, a terrorist group known as The Engineers is silently taking control of the base.  As Sam and Vic take off in a helicopter over the base, a massive explosion rocks it, taking them down.  Alive, they head into the base to try to take it back.  Sadly, in this attempt Vic is greatly injured, leaving him on life support.  It's here at the hospital that Sam gets the call…
The Engineers have made a threat: remove all American troops from all foreign countries, or they will attack a new American location every seven days.  Alongside this threat, they revealed the titular Blacklist, which gives timeframes and hints to their next attacks.  Fearing for the safety of her people, the American President Caldwell contacts the newly formed Fourth Echelon, who quickly seeks out the retired Fisher's aid.  Reluctantly accepting, Sam takes the helm of the team, on the demand that he can bring in one of Vic's crew, and gets to work on stopping the Blacklist.  From the initial scene to the end credits, the darker tone and intense action scenes in this tale will have you at the edge of your seat.  As you search for answers, and watch the game's unfolding tragedies, you'll find yourself feeling more and more in Sam's shoes.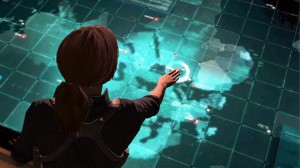 Gameplay in Blacklist is similar to any Splinter Cell game, where players shoot and sneak their way throughout a level to complete various objectives, from saving VIPs to preventing a viral outbreak.  Sam brings several tools with him to help complete these goals. He has his trusty pistol, a secondary firearm (which can be an SMG, assault rifle, shotgun, or sniper rifle), a non-lethal weapon (stun gun or crossbow), and a variety of gadgets including: noise makers, sticky cameras, flashbangs, grenades, and even a tri-rotor drone.  Your path throughout a mission is fairly linear, with a general shape and direction, but there are multiple paths to take, and various methods to dealing with hostiles.  Your actions are separated into three categories: Ghost, Panther, and Assault.  Ghost actions involve remaining undetected, taking non-lethal actions, sneaking in the shadows, and leaving enemies undisturbed; Panther moves also require avoiding detection, but involve lethal takedowns, and using quick Assassin's Creed/Uncharted styled free-running to navigate hidden paths avoiding enemies post detection; finally, Assault players will run right in, disregard stealth, and kill anything and everything that moves.  Gamers can either stick to one style, or mix and match them to create their own way to play.
At the end of your level, you're brought back to your mobile base (the C147-B Paladin aircraft) and are awarded a score based on how you did in each branch of play, with the final score being converted into currency.  This money is then used to buy multiple things, be it new gadgets, weapons, or upgrades to your air-base (which can augment things like in-game health regeneration or unlock new gear to buy).  This system creates a high level of diversity, as the amount of upgrades available is staggering; whether it's as simple as changing an outfit or goggle colour, or swapping out weapon internals to reduce recoil, you can change or edit just about anything to fit the way you want to play.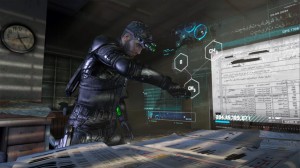 Should you happen to be playing on an Xbox 360, you have the option of using your Kinect sensor's microphone to augment play.  The Kinect can do two things: record a custom distraction sound for your devices, and  draw the attention of your enemies.  You have about three seconds of recording time for your distraction, and you can say anything you can fit into those few seconds.  While hiding, you may also say "hey you" aloud to draw the enemies' attention in your direction.
While the anti-terrorist plot may suck you in, there is a lot more to Blacklist than just its campaign, as it features several co-op missions and an extensive multiplayer.  Co-op missions, as you'd expect, task two players with several smaller missions, ranging from complete stealth missions to all-out base defense – and everything in between.  Co-op options include playing splitscreen, online with a friend, online matchmaking, or even (surprisingly) single-player – though if you go solo you miss out on co-op-only paths such as the iconic dual-door-breach.  These missions are insanely fun, and the sheer number of them will keep you and your pals busy for days.
Returning to the Splinter Cell series is the fan-favourite multiplayer mode, Spies Vs. Mercs, which sees players taking part in crazy asymmetrical combat.  There are six gamemodes: SvM Classic, SvM Blacklist, Extraction, Uplink Control, and Team Deathmatch.  SvM Classic is exactly how it sounds, the original SvM gameplay from the good old days.  Here, teams of two take turns each playing as Spies and as Mercs for one round, with the goal of the Spies hacking terminals while the Mercs defend them.  Spies are nimble, and act like Sam in the campaign, able to hide in the shadows and parkour over objects.  Mercs, on the other hand, actually play the game from the first-person perspective, similar to the Call of Duty games.  Using their flashlights, Mercs can reveal Spies hidden in the darkness.
Previous Image
Next Image
SvM Blacklist is a variation of Classic, but seeing four players per team.  As well, Spies do not disappear in darkness, and Mercs don't have flashlights.  Instead, each side has various customization options available, from additional armour to faster sprinting, as well as special abilities such as Adrenaline (temporarily raising defence and offence).  Extraction is basically the opposite of Blacklist: instead of Spies attempting to hack the Mercs' defences, the Mercs try to steal briefcases from the Spies' bases.  All the customization options remain, but the teams simply switch sides.  Uplink is somewhat different, as it features two teams of three, which can consist of both Spies and Mercs.  Acting as a sort of King of the Hill match, players battle to control uplink stations as they appear on the map, with the team holding the most at the end the winner.  Finally, Team Deathmatch is what you'd expect: two mixed teams of four attempting to rack up as many kills as possible.  All of these modes are a ridiculous amount of fun, and die-hard fans will surely be pleased to see SvM return.
Regardless of your playmode, you'll notice one thing: just how beautiful the game is.  Sporting a fantastic lighting engine, Blacklist creates not only photo-realistic environments, but it also makes gameplay a lot more impressive – like shooting out lights to create hiding spots.  Furthermore, animations have been made amazingly smooth, especially in Sam's takedowns.  Watching Fisher smack someone in the face, pull them down, and choke them out using the bend of his knee is both terrifying and entertaining all at the same time.  Factor in some beautifully smooth, pop-free textures, and you have a gorgeous game.  However, one issue that presents itself is facials; expressions on characters' faces are often underdone, with someone who's supposed to be screaming in anger looking as though he's only mildly annoyed.  A bit more attention here would have made the title a flawless visual masterpiece.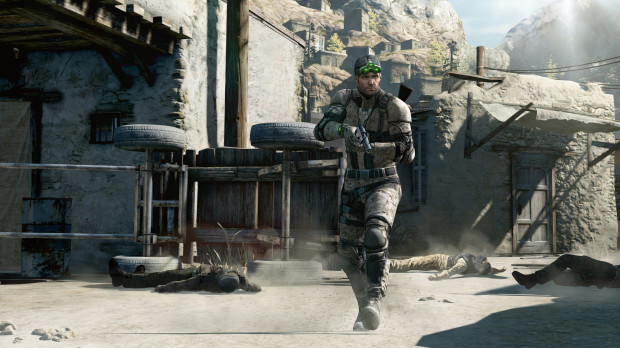 As for the audio, Blacklist spares no note in creating a symphony of sound effects for your ears.  Aside from the tense, electronic-heavy battle music, or the suspenseful sneaking tones, the game features several audio cues to enhance your gameplay.  A rising set of beeps will notify you when you're being noticed, and several downward whoosh sounds will augment your takedowns – just to name a couple.  All of the effects in-game somehow mesh into the soundtrack, so you don't get any of the clashing  audio dissonance other titles seem to have.  One dark shadow looms over the latest Splinter Cell though, and that is its voice cast.  Since the first game, actor Michael Ironside has provided his grizzly voice to bring Fisher to life, but no longer.  Instead, he is played by one Eric Johnson (Whitney Fordman – Smallville; Steven "Flash" Gordon – Flash Gordon).  This change is so jarring, that in the opening scenes I didn't know which character was actually Sam until someone called him by name, which took almost five minutes.  Don't get me wrong, Johnson does a brilliant job.  However, Sam is in his mid-50s, and suddenly sounds as though he's in his late 20s.  Mix this with the stigma of the change, and something just doesn't add up, leaving Fisher flapping in the wind.  A shame, as just about every other tone is near perfect.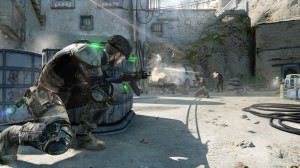 At the end of the day, any fan of the series is going to praise Splinter Cell: Blacklist heavily.  Returning to the game's general roots, while still writing in new and evolving mechanics, the title is held back only by a few audio/video issues.  Still, with its three-way attack plan, extensive customizations, and returning fan-favourite Spies Vs Mercs, Blacklist is a knockout release that new and returning fans must have.  Grab your 5.7 pistol, strap on your night vision goggles, and get to work, agents – the Blacklist attacks aren't going to stop themselves!