The Night of the Rabbit (Review)
This game was reviewed on the PC.
When we were young, the world seemed as if it was so full of wonder and possibility. Oft times we would dream our days away with nothing more than a friend or two, a stick, and an open field. As we grow up, we leave behind many of the simple pleasures our own imagination grants us, so it's nice when something comes along to rekindle that kind of awe. From the minds of Daedalic Entertainment comes a story filled with adventure, mystery, and magic: The Night of the Rabbit. This point-and-click adventure is sure to catch your attention with its hauntingly beautiful design and its mysterious and intriguing characters.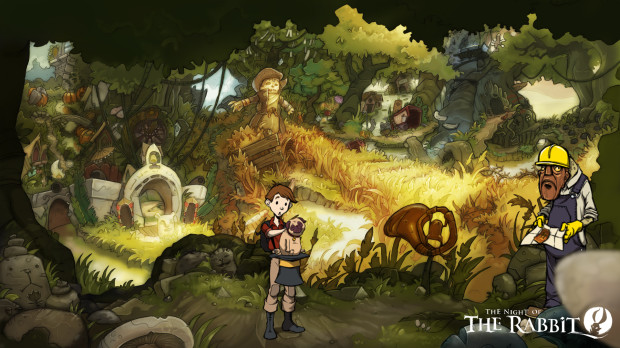 You are Jerry Hazelnut, a young boy who meets a magical rabbit named Marquis de Hoto. You have two days left of summer vacation, and Marquis de Hoto offers you the chance of a lifetime – to be his apprentice and journey with him to the far off land of Mousewood! Mousewood is a magical world where animals are people, and, well, Jerry is the only human. You'll be tasked with making preparations for your celebration, the Treetop Festival, which announces Jerry's arrival as the newest apprenticing Treewalker (magicians that can travel via tree root between different worlds).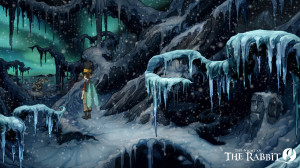 As you prepare, you'll be helping the people of Mousewood with a variety of tasks, like catching a nasty green hat (that looks like a leprechaun) from stealing two villagers' tools, or saving a baby owl from a nasty crow. For fans of Daedalic Entertainment, games like Edna and Harvey have taught them that as innocent and joyful as the characters and the story may seem this will not last. For those who are new to these games, as you move on and make arrangements for the Festival, very strange beings keep appearing and then vanishing into thin air, and you slowly start to realize there is a bigger threat looming in Mousewood than a few pesky crows. The game begins to take a very dark turn towards the bizarre and even heartbreaking, reminding you that not all fairy tales have happy endings.
Players beware, though, as while the story is fantastic and clever, the first half of the narrative is very slow moving, and it takes a long time for the game to pick up the pace. This may turn off some players, as there is a lot of very drawn out dialog. If you want to skip the dialog, you can do so by continuously clicking the left mouse, or skip an entire scene by pressing the escape button . Be warned, this may glitch your game out if you do. I had already played the first few chapters via the demo, but the file was corrupted so I began a new story. As I had already seen the first section,  I tried to skip past these scenes. In doing so, two things happened: the sound cut out for the rest of the playthrough, and on a second try, the characters turned into black silhouettes of themselves and the first word of their dialog played over and over again without a way to stop it. You will have to return to an earlier save or restart the entire adventure if this happens.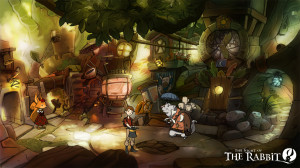 If you aren't a fan of complicated button schemes, you'll find that this game is perfect for you. The left mouse button will do anything you need. One click with the left mouse button will allow you to talk to people, pick up objects and put them into your inventory, add items together (like putting a letter into an envelope), and more! Of course, the space bar can be used as a shortcut to see through your magic coin (which shows you hidden items or objects you can interact with); the right mouse button gives a brief description of items in your inventory; the I–key opens your inventory screen up; and escape returns you to the title screen, but you can use the left mouse button for all of these actions if you prefer it! The game mechanics are solely exploratory, as you'll be clicking on people or objects to learn and interact with them as you go, which will help you reveal the story. While there is thinking work involved, you won't be worrying about fast-paced action scenes or a slew of menu options.
The main goal of the game is to finish the storyline. As you explore, and come into predicaments, you'll find yourself opening up new possibilities  in the gameplay, furthering the storyline. Each predicament is almost like a puzzle: find which objects will help you solve the problem at hand. An example of this would be when Conrad's niece, Ursula Owl, is trapped by a crow trying to eat her. You find a shoelace on a shoe in the forest and pick it up (pressing the left mouse button, remember), then throw it at an antenna (by – you guessed it – pressing the left mouse button). This will startle the bird, but not enough to make it fly away. Jerry will realize this and surmise that the crow needs to be closer to the antenna, so you'll have to place a sweetroll beside him so he'll move closer and start to nibble on it. Then you simply throw the shoelace at the antenna again, it hits the crow, and he flies off, rescuing Ursula from a terrible fate.
These steps may sound complicated, but Jerry talks to himself and drops hints while you're going through these scenarios, like suggesting you need to scare the crow away somehow, and if only you could reach that antenna. Most of the puzzles end up this way, with logical items being put to good use. While there is a bit of trial and error involved, most problems you come across are easy to figure out if you have the items you need in your inventory, and if not you probably haven't gotten to that part of the story yet! The entire game is like this – cause and effect . It's neat to see what items you pick up along the way will become useful in the future, so make sure you leave nothing lying around, and click on everything you can!
Previous Image
Next Image
Visually, The Night of the Rabbit is breathtaking. The art reminded me of books I read as a child: Peter Rabbit, The Chronicles of Narnia, and even Winnie-the-Pooh. The soft lighting alongside a storybook character scheme, and the natural backdrops, are sure to take you back to a time when you were little and the world was full of wonder and enchantment. The characters are all different shapes and sizes, all with their own unique appeal. A personal favourite is the Marquis du Hoto: a very tall and slender rabbit, with white fur and red eyes. His maroon tailcoat and yellow tie make for a very sophisticated look, and pays tribute to the fact that this character has been around for a very long time and has seen many wonders which has made him knowledgeable in the ways of magic. This kind of detail is what makes The Night of the Rabbit even more enjoyable, and furthers our expectations for future Daedalic Entertainment releases.
Even the sound of the birds, or the violin and flute gently playing in the background deepens your emersion into this enchanting little tale.  Every splash in a puddle, or creak of a wooden floorboard springs this game to life in a way that many adventures simply don't. The voice acting is exactly what the theme demands: slightly instructive, and occasionally patronizing, but filled with a diverse and energetic cast of characters. The anthropomorphic citizens of Mousewood all have their own audible quirks to them. You'll hear the little squeaks and squeals from a Young Squirrel as she giddily tells you about her new purse, or the slow and wise drone of the wise old owl Conrad as he recalls historical accounts of the Treetop Festival traditions. There's so much life in these characters, gamers will find it hard to pick a favourite along their travels.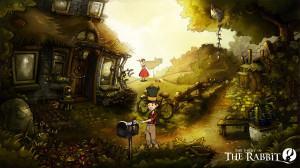 Birthed from mystery, magic, and wonder, comes a story played through the eyes of Jerry Hazelnut. The Night of the Rabbit has something for everyone, in a point-and-click adventure scheme that may just make its way back into mainstream gaming. If you aren't a fan of the bizarre or tragic, The Night of the Rabbit should come with a warning label: objects in game are darker than they appear. That being said, for $19.99, you'll have hours of fun trying to solve the riddles and puzzles in the game that make the journey a fun filled adventure you'll fondly remember for years to come.