Thomas Was Alone: Benjamin's Flight DLC Review
Thomas Was Alone, developed by Mike Bithell, was featured as one of PSN's Spring Fever indie game promotions, and was well received for its mixture of brain-teasing platforming coupled with an intriguing and well delivered story. While Thomas Was Alone told a story of a group of characters and their journey to liberate a group of subservient AI, Benjamin's Flight, the first DLC for the game, focuses on a closer-knit pairing of Benjamin, a green square who happens to come into possession of a jetpack, and his father. Comprised mostly of the same gameplay that made Thomas Was Alone so great, is Benjamin's Flight enough of an incentive to draw you back?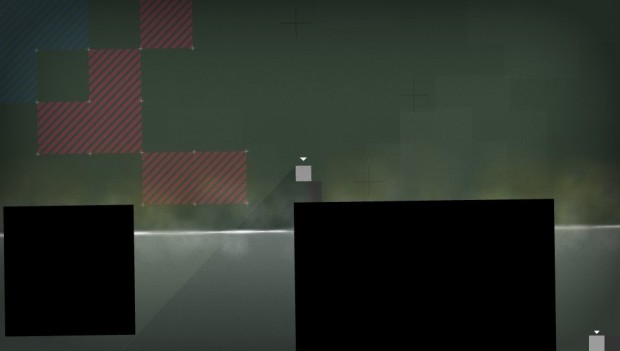 Benjamin's Flight takes place before the events of Thomas Was Alone, although, aside from the presence of Sarah, one of the characters from the main game, there's no real need to play either this DLC or the main game before the other. Storywise, Benjamin is looking for the Fountain of Wisdom (which is essentially an internet port), merely out of curiosity. What this means for the player is that they'll get two extra chapters of levels to playthrough, which is unfortunately an incredibly short, but interesting, experience. Most of the DLC plays out like a nod to the myth of Daedalus and Icarus, with Benjamin's father having to constantly rein in his son, in an attempt to prevent him from causing harm to himself.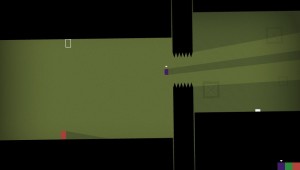 What makes this DLC feel fresh is the addition of Benjamin's jetpack, which allows for a variation on the standard puzzles seen in Thomas Was Alone, and forces you to think differently about the best ways to approach a solution to some of the situations Benjamin finds himself in. That being said, the jetpack is kind of a pain to control, particularly in the earlier levels, and though you will get a better hang of how to fly around the levels later in the DLC, you're still always a tiny bit too-much-pressure-in-your-fingertips away from having to restart a level.  Being able to fly does have its advantages, not least in being able to carry your new companions around. In the original game, characters were unable to even jump if someone else was on top of them, so being able to move freely with a passenger mixes up the gameplay nicely.
Previous Image
Next Image
While Benjamin's Flight makes an admirable attempt to try something different from the main game of Thomas Was Alone, the main issue is that there just isn't enough content here to really justify a purchase, even at the fairly low price point of $3.49. I managed to finish all of the levels on offer here within about 20 minutes to half an hour, and aside from having issues with controlling the jetpack for a couple of levels, that number could have been even lower. Admittedly the levels are fun:  it was nice to explore a bunch of new characters, and even have a different perspective on one we'd met before, but I can't help but feel that the experience was over far too quickly. Benjamin's Flight is by no means a bad addition to Thomas Was Alone, but I'd recommend seriously considering if the length of the gameplay you get out of the DLC is worth the price of admission.