Time and Eternity Review
This game was reviewed on the PlayStation 3.
If your new husband was killed on your wedding day, how far would you go to save him? In the case of Time and Eternity's Toki, she summons her aggressive alter ego Towa, and travels through time, taking on assassins, best friends and more in an attempt to ensure her wedding day goes off without a hitch. Developed by Imageepoch, Time and Eternity does away with such JRPG staples as a party system, and introduces a number of Western-inspired mechanics, such as dialogue choices and a quest system that allows the game to feel a little more like a fusion between traditional JRPGs and Western games (such as Mass Effect or Baldur's Gate).  Though Toki and Towa are the dual heroines of the game, players view the story through the eyes of Zack, their husband whose death sets the wheels rolling on their adventure.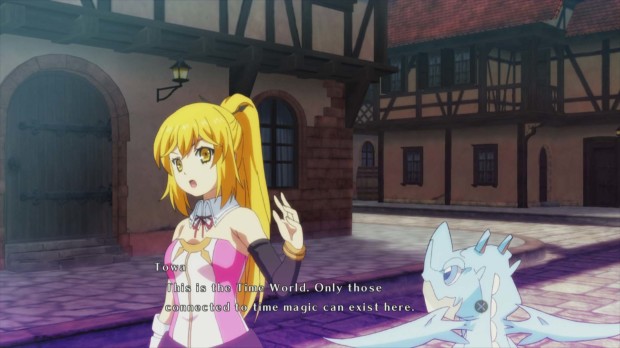 Time and Eternity certainly starts off like a traditional JRPG, with an introduction consisting of close to half an hour in length of cutscenes, with nary a hint of gameplay to be seen. Dialogue and cutscenes are handled a little differently here than they usually are within the genre though, as the player is allowed to choose their responses in certain sections, which can affect how Zack is viewed by Toki and Towa. These choices effect which gifts the player is given to aid them on their journey. Cutscenes mainly play out through 2D character models with a heavy anime influence acting against static backdrops, though the character models have a fairly minimal range of facial expressions and movement. Dialogue can be skipped, which is useful for those in a little more of a hurry, but the fact that the main story, at least, is fully voice-acted in both English and Japanese is a nice touch.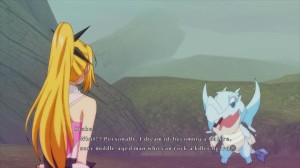 Unfortunately, through the cutscenes (and the game as a whole), visuals are largely unimpressive, fairly mundane and extremely repetitive. Though enemy models are perhaps the strongest visual aspect of the game, with their hand-drawn style proving easy on the eye, they're incredibly overused and repeated ad nauseum, just with a different colour scheme used to represent variety. Textures, both on objects and within environments as a whole are fairly low quality, and the environments generally are lacking in diversity.  Grassy plains, canyons and forests take up the majority of the narrative, which can leave players bored with their surroundings.  Though the game never veers into the territory of 'ugly', a little more visual clarity certainly wouldn't help, and a strong dose of variety would go a long way to keep players more interested in what was around the next corner.
Quests are handled in a similarly uninspiring manner, with both quest givers and objectives reduced to a series of icons, instead of character models. Though separate dialogue scenes include characters, any items that you need to pick up or people that you need to speak to in the gameworld are represented by icons from decks of cards, with clubs representing quests, spades for quest monsters, diamonds for items, and hearts for memories. This doesn't do much to keep gamers' attention throughout the many sidequests available, and makes an already overused fetch quest system feel even more like going from point A to point B for no particular reason other than collecting experience.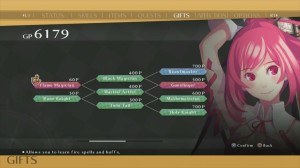 These sidequests do serve an important purpose, though, in that they provide Toki and Towa with Gift Points (GP), which, alongside experience, allow the two main characters to get stronger and deal more damage. Gifts are given their own screen within the menu, and GP can be spent to unlock new sets of abilities, whether passive or active. Active skills can range from spells to skills with weapons, while passive skills allow for extra health or a boost to SP at the start of a battle (SP allows you to use active abilities quicker). Each gift is purchased once you have enough GP, but the skills within aren't unlocked until the player levels up. GP and Gifts are kept separate between Toki and Towa, and vary slightly between each character, meaning that although the two fight in a similar fashion at the start of the game, towards the end they feel like two distinct battlers with their own unique talents.
Quests are also represented well on the world map, which in itself is one of the strongest portions of the game. Although you don't physically travel the world by yourself, and instead select the various areas that you wish to travel to, if a particular area has a quest available to start (or objectives required for a quest already in motion), this will be highlighted on the map. This simple mechanic saves the player from aimless wandering looking for where to go for a specific item or character. The world map is perhaps the strongest visual aspect of the game, as it is beautifully illustrated and features subtle moving parts, such as flocks of birds, ships moving across the ocean, or plants waving in the breeze. The map screens also provide secondary dialogue as players travel between areas, filling in blanks in the narrative, and providing a little more depth and reasoning behind the motivations of particular characters tied to the main story.
Previous Image
Next Image
Travelling through the environments of each particular area is a bit of a weird experience. Time and Eternity is viewed from a third-person, over-the-shoulder perspective. While this type of viewpoint isn't unheard of, the clash between character model and environment is a little jarring. The character model of Toki or Towa is superimposed on top of the environment, almost as if they are presented on different layers. This gives a similar effect to when a car in the filming of a movie is kept stationary, while the backdrop behind it features a moving image. Because of this, Toki and Towa don't feel as if they are part of the world they're supposed to be travelling in, and instead they are merely running on the spot while the world moves around them. What's more, both Toki and Towa seem to glide for a couple of seconds before breaking into a run, making them look like they're temporarily hovering over the surface of the world.
In terms of battling, which makes up a large part of Time and Eternity, the experience is a similar mixed bag of good and bad aspects, much like the rest of the game. Toki and Towa fight by themselves, with Drake, the current embodiment of Zack, alongside them, attacking and healing as necessary. Only Toki or Towa can be controlled by the player, and they only fight a single enemy at any one time, rotating through the battlefield to the next enemy as the previous one is defeated. Battling is a fairly simple concept, with the circle button performing an attack, the left analogue stick dodging enemies' attacks, and the L1 button blocking. The rest of the face buttons (triangle, square and cross) are assigned to various powers, which can be set through the main menu, and unlocked as part of the Gift system. Variety is added to the battle system by way of range, in that both Toki and Towa are equipped with two weapons, a sword and a rifle. Toki is stronger with the rifle and Towa with the sword, and their unlockable abilities reflect this, with Towa specialising in short-range attacks and vice-versa for Towa.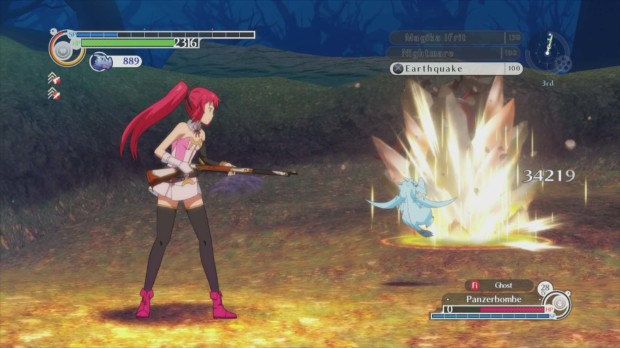 Combat doesn't really offer up much in the way of depth, not least because most battles can be overcome by using a mixture of the circle button until a spell becomes available (SP for performing abilities gradually increases as the battle continues). What's more, once you've fought an enemy a couple of times, you'd be quite unlucky to take much (if any) damage, as each enemy strain uses the exact same pattern of attacks in each and every battle. As mentioned earlier, many enemy types are merely the same model as seen previously, just with a different paint job, and as such, if you're fighting a slightly different coloured robot to one you fought ten hours and twenty levels ago, the exact same techniques can be used to defeat them, and in the exact same order. Battles in Time and Eternity quickly boil down to recognising the enemy type, remembering which attacks they use and when, then dodging for the prescribed amount of time until you can use one of your attacks. The only real challenge comes from encountering a new enemy type which doesn't happen very often, and even after a couple of fights with a new enemy, you'll have their pattern down and will be able to beat them with your eyes closed.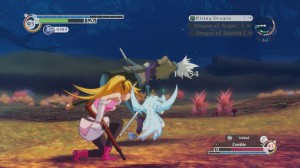 As a side note, Time and Eternity is one of the crudest, most immature and perverted games that I've had the 'pleasure' to play recently. The script is full of jokes that pre-pubescent boys will find only mildly amusing, and the character of Zack/Drake seems to exist for the sole purpose of commenting on how much he would like to see particular characters in the bath or in compromising positions. Frankly, the game is a rather uncomfortable experience to play for anyone with the slightest modicum of sexual maturity. JRPGs aren't exactly known for their forward-thinking in terms of sexism of female relations, but for a game that features two supposedly strong female leads, it's a bit of a culture shock to experience such juvenile sexual humour.
Time and Eternity is very definitely a JRPG, but it also borrows slightly from some western influences to create a more accessible brand of gameplay. Though visually and mechanically the game is quite repetitive, and doesn't really do much that hasn't been seen before, there's still a quite enjoyable gameplay experience here, if you can look past the demeaning humour in it. There's a reasonably long narrative too, with a more than generous helping of sidequests for those who want to see everything that the game has to offer, and an initial playthrough could quite comfortably clock in at around 30 hours or so, with all sidequests completed.  Though Toki and Towa's adventure doesn't really do much to break new ground, if you're looking for a new JRPG to while away the hours, Time and Eternity could be a good option to see you through the summer.