Total Recoil Review
This game was reviewed on the PlayStation Vita.
For those who only pay attention to physical releases on store shelves, the PlayStation Vita seems to be suffering a slow, early, agonizing death. However, if you keep an eye on the PSN store updates, you may be aware that plenty of great games are releasing for the handheld digitally, and at a fairly steady pace. One of the more recent releases on the store, coming from Eiconic Games, is Total Recoil,  a fine example of a title that just wouldn't work the same on any other platform, and may just prove addictive enough to keep your Vita from gathering dust just a little longer. Let's take a look and find out what makes this game so appealing.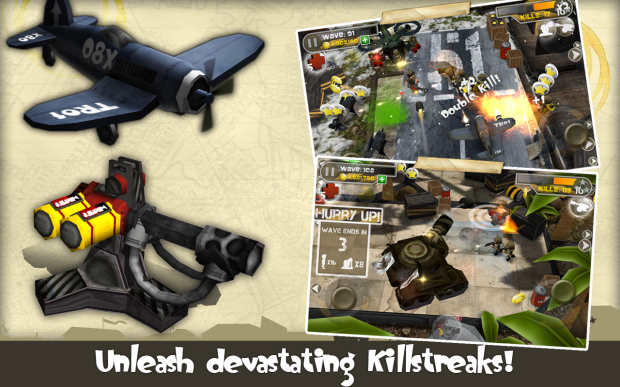 If you've had the pleasure of experiencing Jetpack Joyride, you'll have a head start in figuring out just how Total Recoil works. Players make their way through fairly brief stages, collecting coins and powerups along the way, and levelling their character up by completing challenges. Whilst Jetpack Joyride is a sidescroller, though, Total Recoil is a top-down twin-stick shooter, viewed from an isometric perspective, with players controlling a single soldier tasked with defeating waves of enemies. There's no real storyline to the game, or reasoning behind why you're killing endless waves of soldiers, other than the fact that these soldiers drop coins, which can be exchanged in the game's store for cool things such as new weapons, killstreak rewards and powerups for your soldier.
These store purchases are the main draw to keep you playing through Total Recoil, as the levels aren't all that exciting and are fairly repetitive, serving mainly as a conduit to rack up some riches.  The game constantly reminds you that there are purchases to be made in the store, with pop-up ads appearing before and after each level, advertising newly available wares, shiny buttons proclaiming new additions, and even the ability to purchase upgrades to your weapons mid-level. There is the option to buy the in-game currency, Bucks, using real-world money, but at the time of writing, the link to the PSN store merely informs you that there is currently no content available for purchase.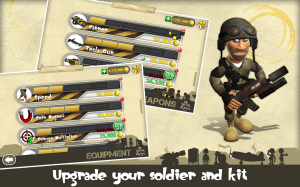 The range of purchases throughout the game is admirable, and the drip-feed of unlocking items in the shop is more than enough to entice players with just one more go, whether it's aiming towards collecting enough money to make a purchase, or completing enough challenges to level up so the next gun becomes available to buy.  Players start off with an Assault Rifle, which, like all weapons in the game, can be upgraded to improve stats such as firing rate and damage done. Later in the game, players are able to use more advanced weaponry such as Chain Guns, Grenade Launchers and even a Tesla Gun. Similarly, the initial killstreak reward is an Artillery Strike, which can be upgraded to allow more shots to be fired, but this can eventually be complemented by Sentry Guns, Tanks, and Strafe Runs from aircraft.
Killstreaks are activated by using the face buttons, and for a game with such a simple premise, Total Recoil does a surprisingly good job of utilising the vast majority of the Vita's inputs. Equipment, such as health packs and shields are tied to the d-pad buttons, the touch screen is used to place Sentry Guns and target Artillery Strikes, and the back touchpad can be used either as a replacement for the right stick, firing your soldier's weapons, or to guide missiles. Much of your time playing will be spent using only the left and right analogue sticks (for movement and firing respectively), but having so many different input options allows the game to thrive on keeping both your eyes and fingers active at all times.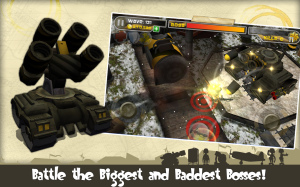 As mentioned previously, it's the purchases, and not so much the levels themselves that will drive players through the game. That's not to say that the levels are unworthy of praise, though. Players will fight through a small selection of environments, including jungles and train yards, and the visuals, though fairly cartoony in style, are clear and crisp. While the environments are repeated fairly frequently, level layouts are varied, as are camera angles, meaning that it never feels as if you're retreading familiar ground from one level to the next. The only downside to the levels is that some of the layouts can inhibit player progress. In one such example, a Tank Killstreak reward was available to be picked up in a distant corner of a map. However, the Tank is so sizeable that the level prevented me from moving it away from the pick-up point, due to a mixture of objects and narrow passageways, rendering the reward useless, as no enemies were in the immediate vicinity.
As players make their way through the levels, they will be assigned various challenges to complete, which award stars when finished. Collecting three stars levels-up your character, which doesn't have a direct impact of play, but instead allows further items in the store to be purchased. These challenges are quite varied, and in fact give a greater sense of progression through the game than completing each level does. Examples of challenges include killing a certain number of enemies using a particular weapon, collecting a set number of coins, and calling in particular killstreaks. Separately from these challenge stars, players are also awarded star rankings for their performance on individual levels. There are three possible stars to be awarded, with the first being granted for completing the level, the second for defeating each wave of enemies before their timer expires, and the third for finding all the hidden medals on a level. These stars don't go towards rank increases for your soldier, but instead serve as a point of pride for finishing a level completely.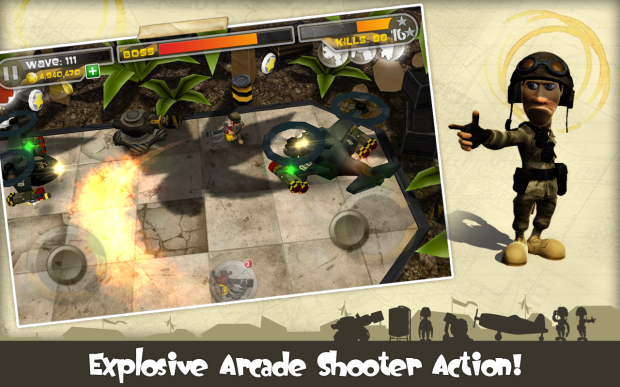 Total Recoil isn't the kind of game that will draw you in with its story, depth of character or innovative gameplay mechanics. What it will do, though, is hook itself into the part of your brain that whispers to just take 'one more go'. Whether it's buying the next weapon, finishing the next challenge, or seeing what the next rank unlocks, Total Recoil, like Jetpack Joyride before it, has effectively nailed how to make a game that refuses to let you put it down without a concerted effort. Luckily, the game that lies beneath the addictive qualities is enjoyable, if a little shallow. If you're looking for a game to keep you occupied on your commute to work, or to kill a few minutes here and there, Total Recoil is a great option to pick up and play. Just be sure to keep an eye on the clock, or you could find hours have passed without you realising it.