Wash Away Your Enemies – Rain Review For PS3
From SCE Japan Studio, the team who brought you ICO, Shadow of the Colossus, and Tokyo Jungle (just to name a few), comes a new PlayStation Network title: rain.  Does this artsy tale about a boy lost in the rain have what it takes to join its predecessors in greatness, or will this storm merely blow over as just another PSN title?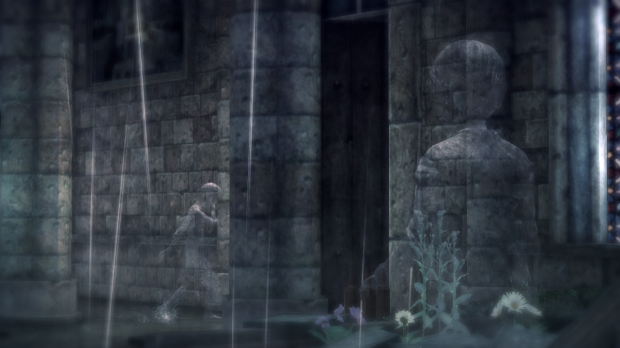 Our tale starts with a boy, who is sick in bed.  His illness prevented him from a day out at the circus, so instead he spends his time looking out the window.  Suddenly, from nowhere a storm sets in, showering his view in a blanket of rain.  From this downpour, he makes out the silhouette of a girl no older than him, only visible by the water connecting with her general outline.  Curious, the boy takes to the window to see her more closely, but is interrupted by another more daunting shape approaching the girl.  When this new entity takes on the form of a towering monster, the girl is frightened, and darts off down the street – creature in tow.  Not one to let a little water bother him when someone is in the face of danger, the boy risks health and safety to venture into the storm after her.  His chase leads him to a mysterious door, whose entryway is bathed in light.  Courageously, he steps through, and steps out into a familiar place in his city.  By passing through this doorway, however, the boy has become invisible himself, and is only given visible shape by the rainfall.  With questions on his mind, but fear pushed aside in the face of imminent danger, he steps out into the downpour yet again to find the girl, and save her from the monsters in the mist.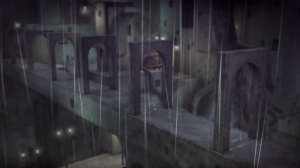 How rain's story actually presents itself is very interesting.  Cutscenes, which are used sparingly, are painted in the style of a motion comic, using watercolour paints to create the image of coloured rain actually painting the picture.  In the game, players navigate the French-styled architecture of the city, with no voice cast to rely on.  Instead, text is painted across the environment, silently narrating the game's event as they unfold.  Mixing the architecture of the game's environment, with the watercolour artwork and voiceless script, rain has a very mime-like feeling about it, giving the game a very satisfying and unique appeal.
At its core, rain is a puzzle game.  The player's goal is to get from point A to point B by cleverly navigating the terrain, finding keys to unlock doors, and avoiding the invisible monsters that lurk in the city streets.  These creatures suffer from the same transparency as the boy and girl, and can only be visible in the rain.  To avoid the beasts, players must creatively sneak around them, or use the environment to defeat them.  You can lead the boy into areas covered overhead to prevent the rain from hitting him, rendering him truly invisible.  Here, only his footsteps can be seen, and only serve to aid the player in locating the boy's position – the monsters don't normally take notice of something as small as a footprint.  Should he step in a puddle, or take an action that is generally noisy, a nearby creature will run to the sound's source to investigate.  Use this properly, and you can distract enemies covering your exit, or even trick them into knocking an object over onto them, causing them to disappear for good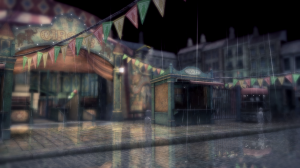 and possibly clearing the way for you to progress!  Not all creatures can be dealt with like this, however, so running may be your only option.  In other instances, moving environmental objects or finding keys may by what's needed, but there is a catch to interacting with your environment.  Say you pick up a key; even though you can't be seen, that key is still visible.  Enemies in game are quite smart, and will take this to mean an invisible being is carrying it, thus attacking you.  Mud is something to watch for as well, as being coated in the murky substance will render you permanently visible unless you find a way to wash it away.  It is possible to get so dirty that even the rain won't wash it away, so you must be very careful where you tread.  If you're familiar with games like ICO, then rain will be walk in… well, the rain for you, and is generally a very fun and rewarding experience.
One issue does present itself with the title though, and that is replay value.  With only the one difficulty setting, the linear puzzle-adventure is basically a one off.  Play through a second time and you will already know exactly what to do, with no alternative ways to tackle challenges – severely dampening any chance of playing it twice.  A small amount of secondary, hidden memories are available on your second playthrough, and while these segments are a nice bonus, a second, more challenging round would have given the title a lot more life, as the game itself is only a few hours long.  If you're interested in a one-tell bedtime story, rain gives a solid amount of content and challenge, but if you want a bit more substance, you'll be disappointed once the clouds clear away.
In terms of functionality instead of aesthetics, rain's visuals are technically splendid.  Taking the same kind of appearance of an HD-remastered PlayStation 2 game, the title throws you into a simple but smooth environment.  Creatures take strange shapes, but resemble familiar things like people and dogs.  Textures and skins used on environments and characters are quite polished, never snapping in their quality, and objects are free of any visual tearing as you navigate them.  The added effect of painting the text across the city is the icing on the waterlogged cake, putting a bow on the neat little package that is rain.
Previous Image
Next Image
What really makes the title stand out is actually the most laidback part of it: the audio.  Every tone in-game is used in a very minimalist manner, making a sound only when absolutely needed: a step in a puddle here, a growl from a creature hearing that step, and a constant and relaxing pitter-patter of rain create a beautiful collection of ambient noise.  As for the soundtrack, only very light, distant, and laidback piano/string sounds are used.  Never picking up too much momentum, or getting too loud, the score simply blends into the atmosphere, bringing the rest of the pieces together brilliantly.  Furthermore, the lack of a voice cast (which is almost counter-intuitive in this day and age) is actually a boost for the game.  The only vocals you'll hear is in the form of a singer during the game's climax, giving way to both the soundtrack and effects, and leaving a generally relaxing listen throughout.  This a game you need to turn the lights off for, slip into some headphones, and just go for a relaxing virtual stroll in the rain.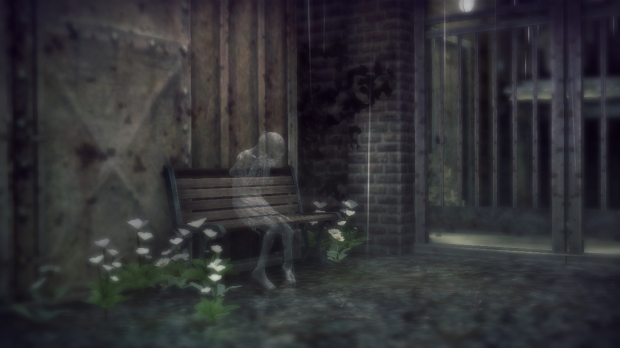 When the storm finally lets up, and the sun breaks the clouds, it's clear that rain is more than just another PSN game.  The gloomy, yet optimistic French setting, minimalist layout, simple (yet enjoyable) gameplay, and fine-tuned audio cause the title stand out in the downpour – making it a great addition to your library.  Don't expect it to last for too long though, as rain blows over fairly quickly and has little to no replay value.  Still, all things considered, this is one release that you definitely do not want to miss.  What are you waiting for?  Go step into the rain; just do yourself a favor and leave the umbrella behind!