What Choices Would You Make? The Guided Fate Paradox Review
This game was reviewed on the PlayStation 3.
Ever wonder what it's like to be God? The immense responsibility of taking people's prayers and turning them into realities seems a little overwhelming. So what would you do if you suddenly found yourself transformed into God? That's the reality for Renya, a highschool boy who had terrible luck his entire life. Then one day, he found himself winning a strange lottery in the mall hosted by a girl named Lilliel, who teleports him into Celestia. There, Renya discovers that Lilliel is an angel, and that he has been chosen to become God. The Guided Fate Paradox is a dungeon crawler RPG from NIS America and Nippon Ichi Software, taking on a very interesting theological premise of the implications of people's desires versus the responsibility of an all-powerful being, set in the Disgaea universe.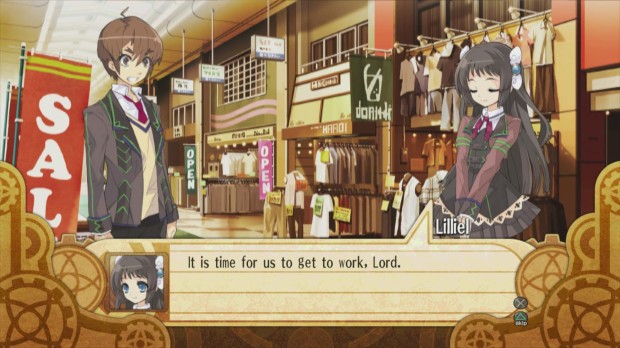 Beginning on Celestia, everything is explained to Renya: he is now God, and has the immense responsibility to answer prayers through a machine called the Fate Revolution Circuit. The machine analyzes all the wishes that exist – from humans, to fairytale characters, to even aliens, and prioritizes them by urgency and Renya's level of ability. The Fate Revolution Circuit is not only a machine, but it's like its own world where Renya battles all the doubts and problems that are holding back each prayer from becoming a reality, each in the form of monstrous apparitions. It's a pseudo world that copies the real world, but only the bare minimum so that Renya can see what's happening without being seen by the real world. The logic here is that if people knew God and angels actually came and physically intervened in the real world, they wouldn't work hard to get what they want in their lives, and that faith alone is not enough to truly help people fulfill their destinies.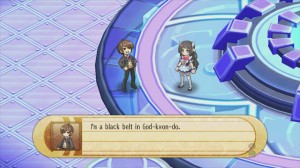 One of the most endearing parts about The Guided Fate Paradox is that there are several levels of philosophy wrapped into each adventure Renya sets out on, meant to trigger discussion among fans and assist in the development of the main character.  For example, deciding whether or not to help guide Cinderella's fate in her fairy tale, and the repercussions of how that would affect the real world and the influence Cinderella's story had on the people who read the story as children. Renya has to make a lot of moral decisions, and figure out who he should be helping based not only their needs, but the needs of the many. Each dungeon has multiple levels that unravel the personalized story behind each prayer, giving players a chance to really involve themselves in each and every mission.
Movement in the game is like most of the Disgaea series, where Renya can move squares left, right, backwards and forwards. It's also still a turn-based system, but there are much fewer pauses, making for a more real-time transition in battle. Unfortunately, there are a few issues that players will see pop up, such as getting stuck on what are supposed to be solid objects, and seeing Renya flickering on the spot, or wasting a turn trying to face the target as the character suddenly walked sideways for no apparent reason.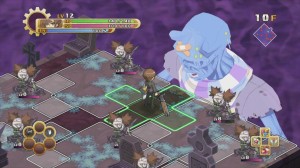 The most interesting and unique mechanic, however, is the leveling system. Instead of grinding to level up your character to a set point, each time you enter the Fate Revolution Circuit, you're back at level one. It sounds completely unfair, but it's really not, as all the experience you gained builds your base stats up, so that you have better starting stats than you did previously. So (as an example) you may be level one, but instead of having five points to your Attack like you did when you started, you have 20 points after gaining experience through defeating a level or two previously.
Anime art is a staple in the Disgaea series, and The Guided Fate Paradox is no exception. Bright and colourful layouts with enhanced anime drawings in the form of characters litter the entire game, with only precise moments with low lit scenery to illustrate the intensity of certain scenes. The characters themselves sometimes don't portray the same emotions their voices or context would expect them to, and while the classic text bubbles with scribbles, or question marks to describe their emotions are frequent, their faces don't always follow the same pattern, often seeming completely emotionless when they should seem shocked or angry. It's really too bad, as a simple shift one way or the other would really help complete the feeling of immersion in the game. Nevertheless, the fun-loving nature of the design lets fans of the series feel right at home.
Unlocking new types of music returns to The Guided Fate Paradox, where players will get a seemingly endless playlist that will rotate either at will, or can be manually set. The voice acting is hit or miss, however, where some scenes include voice actors and others are completely silent, and general discussions in Celestia and outside of the Fate Revolution Circuit often result in generic greetings that don't always match up to the discussion you're having with then (such as a character saying "let us fight" when you're talking about how nice all the citizens of Celestia are). That aside, the music is very diverse, with over two dozen tracks to choose from, and plenty of softer music or bouncy, fun little tunes to fit your mood.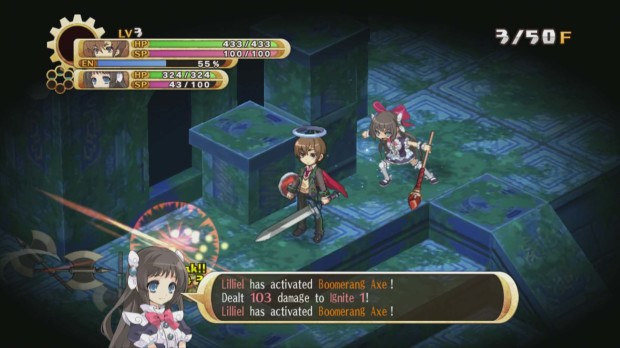 The Guided Fate Paradox is an adventure that feels like a classic Disgaea series game with a new type of twist to it, transporting an average teenage boy into Celestia, instead of pulling from the pool of already endless angels and demons to become Overlords. While the game has its glitches or mismatches, it also has its charms that are sure to prove it a dungeon crawler RPG to keep players entertained for hours on end.