Posts Tagged "Dark Souls"
With 2012 rapidly happening upon us, we here at Wanderson75.net took a few moments to reflect on those games that impressed us the most and decided to jot down our top picks for 2011.  Afterwards, we looked at the best of the best, and voted for the singular most influentual game of the batch to list as our 2011 Top Pick.  And the nominees are… Read On »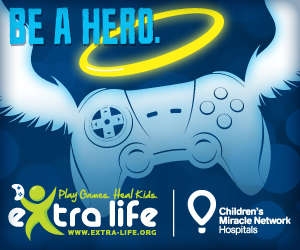 On October 15th at 8am, for my second year in a row I'm going to fire up my Xbox and embark on the Long Road I call Extra Life:  24 hours of gaming in the name of charity.  I'm sure that once more, around the 18th consecutive hour of my unblinking eyes being seared by the merciless television, I will pause and wonder just what the hell got me thinking this was a great idea.  And the answer will be as simple as it is cliché.
It's for the kids. Read On »
They're not ready for this…or are they?
As someone whose gaming career began in the days of the 2600, I have borne witness to a shift in the arc of game design.  Now, most everyone will agree games are ultimately about entertainment.  What changed was the root of that entertainment.  Games now tend towards providing a bit of escapism for the player without them having to put much effort in.  Think of it as an interactive movie where the obstacle, be it a giant monster or arcane puzzle, is merely a plot device moving you on to the next scene.  Those who wish for a greater challenge have the option to increase the difficulty, but rare now is the game where the difficulty simply "Is".  Dark Souls, like its spiritual predecessor Demons Souls, is such a game.
Some of you already get it, others of you require a frame of reference (due to my advanced age, no doubt) to really understand what this means.  The entertainment value in many games of the 8 and 16 bit eras was drawn from the challenge they posed.  Battletoads, Ninja Gaiden, Zillion, TMNT, Ghouls and Ghosts, Shinobi, and R-Type come to mind.  Read On »